Why the GOP's Desperate Political Gambit on Immigration Went Down in Flames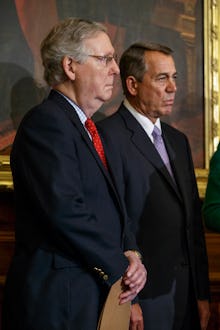 Back in November, a defiant President Barack Obama announced he would go forward with a series of unilateral steps to reshape U.S. immigration policy. Two weeks after Election Day, with Democrats still reeling from their midterm massacre, Obama unveiled new programs and built on existing ones in an effort to protect 5 million people in the U.S. without legal permission from being deported.
Republicans reacted to Obama's plans with a sort of muscle memory: First came the public derision and name-calling, then the launch of a familiar tactical response best described as something akin to hostage-taking. In December, with the deadline to pass a federal spending bill near, the GOP insisted on withholding the promise of new funds for the Department of Homeland Security, the agency that would be carrying out the new immigration policy. 
The premise of their gambit was simple enough: Put Senate Democrats in a position where they would be forced to either sign off on a future bill rolling back the new immigration rules, or filibuster the GOP plan and let the DHS run out of funding, causing the department to shutdown.
But nearly two months later, Obama is refusing to backpedal on his immigration plan and the GOP's ruse has all but collapsed. Faced with rock-solid Democratic opposition and desperately hoping to avoid a shutdown of the DHS, Republicans in Congress now appear ready to cave. Senate Majority Leader Mitch McConnell (R-Ky.) announced Tuesday his intention to bring a "clean" bill to the Senate floor, effectively conceding defeat. And Republicans in the House are reluctant to sign off on anything that doesn't limit the president's executive actions, giving House Speaker John Boehner (R-Ohio) little room to maneuver. (Update: Senators voted in favor of the "clean" bill, 98-2, on Wednesday night. House Republicans have not indicated if they will go along with or even vote on it.)
Now, with a shutdown nearing and Senate Democrats no longer viable scapegoats, the GOP's latest self-inflicted crisis not only threatens the DHS, but throws into doubt the party's repeated claims that it can be trusted to responsibly handle the reins of government.
Obama the bull fighter: In the days after the midterm election, the ascendant Republican Senate leadership spoke in fuzzy tones about a new working relationship with the White House. "Just because you have divided government doesn't mean you don't accomplish anything," McConnell said in the opening remarks of his morning-after news conference. 
But his mostly genial remarks were punctuated with a sharp response to a reporter's question about the prospect of Obama going forward with plans to alter immigration policy without congressional consent.
"It's an issue that most of my members want to address legislatively," McConnell said, "and it's like waving a red flag in front of a bull to say, if you guys don't do what I want, I'm going to do it on my own."
It was the perfect metaphor, but not for the reasons McConnell had intended.
Overplaying their hand: With the knowledge that their power was only going to be diminished further after the turn of the year, a lame-duck Democratic Senate majority pretty much allowed Republicans to set the terms of a December spending bill showdown. In exchange for a promise from GOP leaders to put off their efforts to gut Obamacare, Democrats conceded a number of things, most notably the reversal of an important piece of Wall Street regulatory law.
The squeaky wheels in the Republican caucus were determined to press their advantage. Conservatives and tea partyers wanted language in the bill that would block Obama's immigration actions, which by then had become a serious source of right-wing anguish. This was a non-starter with Democrats, and it put McConnell and Boehner in a recognizable bind: Either give in to hardliners and risk beginning their long-awaited reign with a federal government shutdown or ignore their requests and endanger the votes to keep their positions in the leadership.
So, in a bad compromise they sold as a shrewd political maneuver, McConnell and Boehner ended up leaving DHS funding for the coming year out of the budget entirely. The money wasn't scheduled to run out until the end of February, still light years away in the eyes of legislators trying to wiggle out of a crisis. Conservatives were asked to patient. The fight would come, just not quite yet.
Time is running out: More than two months later, the state of play is right where we left it in December. For Democrats, the notes of sheepishness that followed the midterm mess have been replaced by a kind of swagger, inspired by Obama, of all people.
The party had asked Obama to sit out the fall campaign, such were his lagging national approval rating. But with hindsight, his presence — polarizing though it may be to the broader electorate — still stirs the party base. With the president sidelined and his immigration initiatives on ice, Latino voter turnout in 2014 was the lowest in a generation. 
Would Democrats have kept their majority if Obama had acted sooner? No. But the takeaway is clear — unlike the Republicans, Democrats, from their own cynical elected officials to a rising tide of big-hearted activists, are in lockstep on immigration policy. They want comprehensive reform, and they are willing to be seen blocking DHS funding bills that would undermine Obama's actions.
Republicans, meanwhile, are left to dispense tone-deaf statements. Boehner demanded on Tuesday that Senate Democrats "stop hiding," then asked with a resigned yawn, "Will they continue to block funding for the Department of Homeland Security or not?"
No one is buying it. White House Press Secretary Josh Earnest, taking questions during his Tuesday press briefing, said of the Republican Party, "This is something that they sought, and these are exactly the kinds of problems that they hoped to have the opportunity to solve, and we look forward to them doing it." It was all his power not to grin.
The endgame: Since Senate Democrats filibustered four separate attempts to pass a House bill that would fund the Department of Homeland Security while blocking the new immigration initiatives, McConnell has wilted. In the past 48 hours he has floated and then formally offered to cut the bill in half. One vote, which will never pass, would roll back Obama's new policies, while another on a "clean bill" would give senators the option of funding the agency without conditions.
The question now — and this is the crux of the drama that will unfold over the next 72 hours — is whether Boehner is willing to risk his standing with the House GOP rank and file in order to avoid the undermining embarrassment of shutting down DHS. All this happens, as Democrats have happily broadcast in a letter to McConnell, while the public is grappling with the newfangled threats posed by the Islamic State group and other extremist groups. 
Luckily for the Republicans, a low-level federal judge in Texas ruled last week that the new and expanded immigration programs were likely unconstitutional and placed a stay on their enactment. Shutdown-averse GOP members are pointing to that court case, which will be appealed by the White House, as their way out of the bog. 
Rep. Tom Cole (R-Okla.), who is regarded as being among the shrewder tacticians in the Republican caucus, says he thinks his colleagues would be wise to hand the fight over to the lawyers. "A lot will depend on how members assess the opinion of the courts and do they see that as sufficient," Cole told Roll Call on Tuesday. "I personally do."
Logic says Cole and Republican Sens. Susan Collins (Maine) and Jeff Flake (Ariz.), who have expressed similar sentiments to reporters, will win the day. The broader questions about what to expect from this fractious Republican congressional majority remain stark and concerning. Despite assuming full control of the U.S. legislature, the GOP is still operating with the spirit of a minority party, more comfortable casting themselves as opponents of the president than proponents of any discernible political agenda.
They are, despite their midterm triumph, exactly what McConnell suggested in those first post-election comments: an angry bull charging at a taunting red flag, destined for another painful meeting with the matador's sword.