Anyone Who Says "Jazz Is Dead" Needs to Hear This Incredible Canadian Hip-Hop Band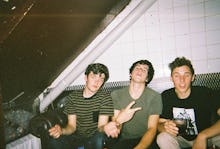 "Jazz is dead" has long been one of the less controversial assertions in the legions of thought pieces about waning musical genres. Jazz has a pretty homogeneous, older fan base, and a well-established reputation for being "safe." But jazz isn't dead at all — it just isn't always called jazz anymore. Often, the best and most relevant modern jazz is disguised as hip-hop. And few groups are proving that better than Toronto's BADBADNOTGOOD.
"We're the first jazz band that's had people moshing at shows," BBNG drummer Alex Sowinski told Now Toronto in 2012. Back then, the trio were just getting attention, remixing rap tracks like Gucci Mane's "Lemonade" and Tyler, The Creator's "Bastard" into raucous jazz instrumentals, sending them viral. They've come a long way since, and they're now collaborating with those rappers they once looked up to. On Tuesday, BBNG released their most fully realized hip-hop/jazz fusion album: a full 12-track collaborative record with Ghostface Killah of the Wu-Tang Clan, entitled Sour Soul. It only proves that jazz never died; it's just not jazz anymore.
Unexpected fame: When they started, Sowinski, bassist Chester Hansen and keyboardist Matt Tavares could hardly imagine they would one day be cutting records with musical idols like Wu-Tang and MF DOOM.
"The first time we got the opportunity to travel and play around, we were like, 'This is fucking crazy, I can't believe our stupid little project that we didn't think was going to be real got asked to play a show,'" Sowinski told Consequence of Sound. "As these things happen, you realize it's not worth it to be focused on the negatives when there's so many positives."
They started their "stupid little project," while studying jazz at Humber College. They were drawn together by a shared love for rapper Lil B and synth soul artist James Blake. One of their first compositions was a medley of Odd Future songs, which they presented as a test piece for a panel of jazz performance instructors.
"The comments were like, 'I didn't find anything of musical value in this performance,'" Sowinski told Now Toronto. The trio then cut a recording of roughly the exact same arrangement on the internet, and it blew up. Odd Future mastermind Tyler, the Creator picked up on it and shared it, raving "This Is Fucking Sick! Dave Brubeck Trio Swag," according to Now Toronto. 
Next thing the group knew, they were jamming with the Tyler when he visited Toronto for a show. Then backing Frank Ocean at his 2012 Coachella appearance. Then opening for jazz-funk legend Roy Ayers. The credentials just multiplied from there — they were more at home in hip-hop than in jazz, but they never left the music behind.
Changing course: The divergence between their teachers' comments and the internet's reaction to their music gave the band some serious pause.
"Obviously, we respect the teachers at the school, they do their own thing, they're great musicians, but if you're going to study jazz- and the jazz they teach is from the 60's and you learn old school stuff, which is all cool. But It's not the right time and place for that music now. You can't go out there and play what you learned at school," Sowinski told RESPECT. in November 2011. 
By March 2012, Hansen and Tavares had already dropped out, and Sowinksi soon followed.
"You spend four precious years doing whatever you want because you're in school, just practising [sic] your scales, when you should be practising [sic] what to do after," Tavares told Now Toronto.
They upset a lot of jazz purists with those comments, which is one of the reasons people fail to realize just how deeply rooted in jazz their hip-hop/punk fusion sound is. All the same, it's resonating more than traditional jazz typically does now. Pitchfork praised the band's ingenuity in a review of Sour Soul: "Basslines and drums creep and skulk instead of just booming, string arrangements recall the late '60s heyday of David Axelrod turning the Wall of Sound into cresting liquid waves." Drowned in Sound described it as "instrumental class versus luxurious rapping flow, and the results are spectacular."
BADBADNOTGOOD's future is looking bright. Their flexible and psychedelic instrumentations are likely to become a hip-hop mainstay, possibly setting new standards for jazz, as well. That stiff-necked 60s jazz sound might be a little stale at this point. But with innovators like this trio, jazz lives on.