7 Times Cookie from "Empire" Proved She's the Realest Character on T.V.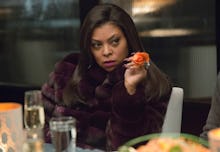 If you don't know who Cookie Lyon is, you should. She's the breakout character from the critically acclaimed hip-hop drama Empire, perhaps the biggest hit of this television season, and she's quickly becoming an American icon. 
There's no denying that Cookie is the glue that holds Empire together. A black woman who takes a bold yet free-spirited approach to both music production and family life, even after emerging from incarceration, Cookie has amassed a loyal following — for all the right reasons. 
Her street smarts not only make her formidable in the music business, but also inform her take on so many of life's pressing issues of identity. She's multifaceted and has her flaws, just like any other human being, but one thing is clear: When Cookie speaks her mind, she says what everyone else is thinking but afraid to express out loud.
Here's just a few of the times so far that Cookie has been totally on point:
1. When she called her cab driver out on his prejudiced remarks.
First, Cookie hails a cab, an often herculean task for black people due to racial bias from drivers. Then, the driver tries to eject her from the car. 
"Get out, you people always misbehave," he says. But Cookie isn't having it. Instead, she hands the driver a fistful of cash for a ride from New York to Philadelphia. "What do you mean by 'you people'? You black like me," she says. 
Cookie is actually making a very smart point. When considering the broader image of racism in America, people of color are marginalized en masse. Although various racial and ethnic groups experience discrimination in different ways, Cookie highlights that they all share the experience of being non-white.
2. When she told her gay child she would always support him.
Cookie's ex-husband, Empire Records mogul and hip-hop star Lucious Lyon, isn't very supportive of their gay son, Jamal. In one flashback, an irate Lucious throws a young Jamal into a trash can after he walks into the living room wearing high heels and a scarf.
Cookie, on the other hand, continuously supports her son. In one particularly moving moment, she opens her heart to Jamal while he visits her in prison and complains about being bullied by other kids. 
"Listen to me. You different, okay? It's only something mama knows, but it's going to make life hard for you sometimes," Cookie says. "But I want you to always remember that I got you. You hear me? I got you."
3. When she proves being a mom doesn't mean women can't be sexual.
Mainstream discussions of motherhood often feature a substantial amount of judgment toward women who express any semblance of sexuality after they have children. Cookie, however, just doesn't give a damn about that kind of outlook.
In one scene, Cookie shows up to her ex-husband's surprise announcement of his new engagement wearing nothing but lingerie underneath a sable coat. She is clearly blindsided by the impromptu gathering. "Let me get this straight," she says, feeling misled by her ex-husband about his romantic intentions. "Last Wednesday, you come to my house and give me a rose after you proposed to that bitch?"
4. Every time she laughs in the face of a male-dominated hip-hop culture. 
In the early days, before there was an Empire Records, Cookie's work was instrumental to the company's eventual establishment and growth as a force in the music industry. She not only cultivated Lucious' hip-hop sound as a rapper, but also helped steer him — and others — to success. To be fair, she finances operations with money she earned from selling drugs. It's this crime that ultimately gets her locked up for 17 years. After she gets out, Lucious tries to keep her from claiming her piece of the pie.
But even when he and his henchmen attempt to silence her, Cookie won't take no for an answer — even if it means showing up to male-dominated board meetings uninvited. 
5. When she humanizes addiction.
Cookie not only looks out for her family, but also for Empire's artists, whom she views as human beings with human struggles. When one of Empire's most successful artists, Elle Dallas, is nearly dropped because she's "too difficult" to work with and is reeling from addiction issues, Cookie fights to give her another chance. She even steps in to help guide the singer's career toward a major comeback. 
"It was your music, Elle, that got me through when I was locked up. It was your music. I had to block out everything so I could survive — you got me through," Cookie shares during an intervention. "I wanna help you, Elle." With Cookie's help and friendship, Elle seems, so far, to be headed in a more positive direction.
6. When she said a word about white privilege.
In one of the first conversations after her prison release, Cookie chats with her oldest son, Andre, about his wife, a white woman.
"We met at school. She's brilliant," Andre says of his wife, Rhonda. Cookie replies: "Pretty white girls always are, even when they ain't." 
The message here isn't that interracial marriages aren't OK, because, of course, they are. Cookie is speaking to a phenomenon wherein white people are often presumed competent, beautiful and intelligent by society's racialized double standards, whereas their counterparts of color are often seen as less than. 
7. When she talked about what it means to hustle.
In one episode, Lucious is struck by symptoms of a debilitating illness that renders him unable to deliver remarks to a room full of investors, a critical event toward the goal of making Empire a public company. Cookie steps in, tosses aside the prepared remarks and, instead, celebrates the entrepreneurial spirit that her husband represents. 
She does this with a little lesson on what it means to work for success — especially when the odds are stacked heavily in the other direction. "We were hustlers, only choice we had," she says. "You see, Lucious did that with music ... took the street mainstream and make the mainstream feel street. Everything Lucious touches turns to platinum, and that's a fact."
In spite of it all, Cookie embodies that same enterprising attitude and outlook on life. 
It's what undeniably makes her a winner.