The Disturbing Way Some Teens Are Really Using Instagram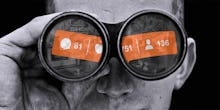 Jessie discovered it accidentally.
"It was on the popular page," he told me. "I thought it was just a hot guy with his shirt off."
Jessie, a 20-something male in New York, had clicked on what he thought was an innocuous selfie on Instagram, the kind of photo we've come to expect from a generation which thinks the best way to prove your worth is to purse your lips while staring into a water-stained bathroom mirror. But the image, it turned out, wasn't of a "hot guy" — it was of a young boy.
"Like, 11-years-old young boy," Jessie said.
Jessie was creeped out, but what he noticed next disturbed him most: The picture had received thousands upon thousands of likes.
"A lot of [the likes] came from other young people, teenagers," he said. "But a lot of them weren't. Accounts with blank profile photos, or of older men. People who obviously didn't know this boy but were getting off to him."
Jessie had stumbled upon the dark underbelly of Instagram, where adults prey on teenagers whose intimate photos sit in plain sight among the sierra-filtered fall foliage and #skinnyarm besties. In the four years since its creation, Instagram has become a welcome mat for sexual predators, the result of a perfect storm: validation-hungry teenagers who distribute sexualized images publicly and lecherous adults who know that showering them with likes and follows is the best way to lure them closer.
Instagram is rooted in intimacy. 
Alex is a 15-year-old Instagram user, according to her public profile. Her selfie appeared in a compilation of images tagged #arianagrande, a pop star whose songs appeal to teens and whose innocent pout appeals to older men. Instagram marked one of Alex's photos with its "Most relevant" tag because the image caption included the hashtag after one of the artist's lyrics ("Baby I'ma need you to beg for it"). A comment underneath the photo reads: "I would fuck that big ass :)."
This kind of photo is the core of Instagram, which has popularized the mass distribution of selfies, photographic self-portraits that offer close-up and often emotional examinations of the subject. The intimacy of a selfie — the typically high angle of composer, the direct gaze between the subject and the viewer — often establishes an immediate, personal connection that can create a powerfully sexual undertone.
The Instagram community's narrow focus on these kinds of images is part of what distinguishes it from other social media platforms. Because a user builds a persona from images alone, it is easy to reduce that user to an object of sexual desire.
Taking selfies, even purposefully intimate ones, is normal — and healthy — for teenagers, who are biologically fated to be exploring their sexuality as they develop into adults.
Elizabeth Daniels, a psychology professor at the University of Colorado, Colorado Springs, has been studying how teenagers perceive their behavior on social networks.
"Interest in sexuality is beginning to gear up around that 12- to 15-year-old range, and so this is very typical and not new to this generation by any means," Daniels told Mic. The problem with Instagram and other social networks is their public nature. "This is now happening in a very public forum in a way that didn't happen in prior generations," she said.
Love me, love me: Something else that never happened in prior generations: hearts. 
Instagram's system of liking and following offers an easy, public and quantifiable way for teens to measure their self-worth and popularity against their peers. The panhandling for follows and likes can be shameless, as if teenagers are trying to rack up points in a video game.
"More likes = more pics [kiss face emoji]" says one profile bio.
"Omg 5k 12/4/14. New goal = 10k. FOLLOW" says another.
It all may seem like adult behavior, but moments of teenage vulnerability in profile bios and captions are there, ranging from the insecure ("I'm kinda chubby I hope that's okay") to the existential ("is life always this lonely?") to the nonsensical proclamations of self ("I'd rather be no one than someone with no one").
Down the rabbit hole: Since the dawn of the Internet, adults who are sexually interested in young people have used technology to find and trade pictures and connect with other predators. Instagram is no exception.
Aggregator accounts on Instagram compile photos of a certain "type" of look in one place. These aggregator accounts exploit teenagers' desire for more followers. Many ask users to submit their photos for consideration with the promise of marketing them to a wider network, like an e-pimp who deals in followers.
Concentrating sexual tastes in one place creates a community of users with the same desires, giving those users a place to connect. In some comment sections of aggregator accounts, there appear what may be requests to exchange more explicit pornography of that type. 
Most aggregator accounts don't showcase explicit photos, but based on their usernames, captions and comment threads, some appear to be set up solely to facilitate trades of pornography off of Instagram. This appears to be done by swapping Dropbox links or other mediums (this kind of aggregator account often has "trade" or "dropbox" in the profile name).
It's about access. Most of the images on Instagram that attract such attention don't classify as child pornography, which has a specific legal definition: photography of children exploited for the purpose of sexual stimulation. Instagram has a system in place to flag inappropriate content, which it then reviews. Despite falling inside the bounds of what's considered legal, the pictures offer something most images made deliberately for sexual stimulation can't: a chance to connect with the subject.
Grier Weeks is the executive director of the National Association to Protect Children, a nonprofit that lobbies for legislation to protect children from abuse. He says that the big concern with Instagram lies in this chance to connect, and is what makes Instagram, along with other social platforms that make this possible, such a remarkable tool in the history of child exploitation.
"You give someone a camera and they'll eventually get around to taking a nude picture of themselves," Weeks told Mic in an interview. "So that's not new. But what is new is the instant ability to make it available to a global audience. And that creates an enormous new problem. Putting [a sexualized image] out there on the Internet then creates the possibility for predators to stalk, to possibly use enticement or, increasingly, extortion."
Instagram does not allow a user to send a direct message to someone who isn't following them. But it's common for children and teenagers on Instagram to publicly post usernames to messaging apps like Kik or Snapchat in their bios, which invites sexual predators to contact them in other ways. 
John Shehan is the executive director of the Exploited Child Division at the National Center for Missing and Exploited Children, a nonprofit primarily funded by the U.S. Department of Justice. NCMEC operates a CyberTipline to which all U.S.-based electronic service providers are legally required to report child pornography.
Both Shehan and Weeks said they typically see two types of exploitation of teenagers online. The more common is the "sextortion," which is when a predator blackmails a child who posts an image, often relatively mild, for more explicit images. The second involves enticing the teen or child into an in-person rendezvous.
Weeks told me of one predator who blackmailed more than 100 boys into sending him explicit photographs by threatening to show their parents and schoolteachers images.
"He was saying, 'I'll ruin your life,'" Weeks said. "That can have a devastating impact on somebody."
The risk is higher for gay and lesbian teenagers, who have the added fear of being outed to their families.
Teenagers are impulsive. They don't always understand that even mild images they post are permanent, or that anyone outside their circle would see them. 
"The kids perceive that it's private among their peers, they're not thinking that someone is going to take a screenshot and post it," said Susan F. Abbott, a child and adolescent psychiatrist who practices in New York.
Other teenagers are straight-up duped. Shehan described one tactic in which a male predator poses as a teenage girl and asks for nude photos from a teenage male. The predator then threatens to expose the teenage male as a homosexual to all his friends — which he can name because he can see the teenager's public "followers" list.
Sometimes the predators will create fake profile accounts to create the perception that the images have already leaked. "Then they act like a different person to say, 'Oh, I just saw your pictures,' and they create this idea that your pictures are being spread out there," Shehan said. It's a psychological mind-game that puts the teenagers in an extremely stressful situation they aren't necessarily equipped to handle.
The second type of exploitation involves coercing the child or teenager to meet in person.
"It always starts with the pictures, and then they want the cell phone number, because that's the one thing with you at all times and there's a lot of control in that," Shehan said. "Some of the apps allow you to check in and they can know where they are at different times, and certainly these cases do progress to the point where they will meet."
Teenagers are especially vulnerable. "The impulse for teenagers to respond to anybody who reaches out to them is really hard to resist," Abbott said. "They're primed to be making social connections, and social connections are what rules their world. That's what they live for."
The problem is only getting worse. By federal law, all U.S.-based electronic service providers are required to report images of child pornography to the CyberTipline once they are alerted to them. Major technology companies like Google and Microsoft are using more advanced techniques to take notice of, and remove, inappropriate material from the Internet. 
But those techniques only focus on photos that classify as child pornography, and do not tackle the problem of exploitation and online enticement. Sexual predators are still able to reach out to teens posting legal pictures of themselves.
Instagram declined repeated requests to comment for this story. 
As Instagram's user base continues to skyrocket — and record numbers of reports are submitted to the CyberTipline, according to Shehan — the company's lack of any viable solutions to address this problem is troublesome. 
To be sure, this problem is not unique to Instagram. Shehan stressed that this is also an issue with other social media platforms. Snapchat has a problem, particularly as it embraces Snapcash. Instagram does have measures in place to prevent abuse. Its terms of service require all users to be 13. There are report links on every photo, video and comment. Instagram also allows a user to block anyone from seeing his or her profile, although for some vulnerable teenagers, the goal may be to get as many eyes as possible.
So while there is only so much the company can do, what makes Instagram so concerning is that it's the fastest growing major social network, teens are flocking to it in droves (a report last fall claimed that 76% of teens are on it), the user experience creates a unique intimacy based on visuals, and the simple reward system validates the subjects of photographs. There are possible changes Instagram could embrace to help protect teens immediately. Two easy steps include making default settings private and disabling geotagging for Photos Maps, which shows the location at which a photo was taken, for anyone under 18.
The industry needs to do more. While social media networks are slow to take meaningful action, it's teenagers and children who bear the consequences. The number of reports received by the CyberTipline more than doubled in 2014:
In the week I spoke with Shehan, the NCMEC had received 225 reports of children being enticed online to perform sexual acts. (Note: That statistic represents enticement made through any electronic service provider, not just Instagram.)
"The bottom line is that you have a lot of sexual predators out there who think they've just got a gift from heaven, because now they have kids, who they used to go out and victimize, creating the images for them," Weeks said.
Weeks thinks that the responsibility falls primarily on our government, which seems more focused on teaching children rather than going after the criminal activity, possibly because it's cheaper. But he thinks that spending money on education is ultimately fruitless, because kids will be kids.
"The world really is an evil place," Weeks said. "It's hard to explain that to them."
Unfortunately, more and more of them are being forced to learn the hard way.
*Names have been changed to protect user privacy.
Editor's note (2/28/15): This article has been updated to remove a number of images and details that appeared in the original, as well as to remove speculation about a user's age.