Meet the 10-Year-Old Defying Stereotypes About Women in Science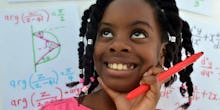 Ten-year-old Esther Okade of Walsall, England, achieved something that will take about eight more years for the rest of her peers: The fledgling math whiz has enrolled in the U.K.'s Open University, where she is studying for a mathematics degree. 
According to the Telegraph, Okade is not only one of the U.K.'s youngest university students ever, but also is at the top of her class and earned a perfect score on a recent exam.
Who said girls can't do math?
Okade still has interests similar to kids her age, such as playing with her dolls, and she's a big fan of Disney's Frozen, the Telegraph reports. 
"I just love math," Okade told the Daily Mail. "All the numbers and the solving, it's like a mystery." Okade said she believes she'll finish her math degree in two years and intends to continue studying — until she's "Dr. Okade." "I'll go do my Ph.D., and then from there I'll start running my own business. I want to be a banker."
No one can deny that Okade is beating the odds. Men continue to outnumber women in the fields of science, technology, engineering and mathematics (STEM), a gap many experts say is caused by restrictions to opportunity and the sexism many women encounter in these male-dominated areas of study. In the U.S., according to the National Math and Science Initiative, women occupy just 23% of STEM jobs, despite making up roughly 48% of workers in all other occupations. Women of color are often particularly affected by the gap, as they encounter a double whammy of racial and gender bias.
These patterns often take hold earlier on in life for girls. Research commissioned by Microsoft suggests that young boys feel more encouraged to enter STEM fields because they're exposed to these fields earlier in life, through things like video games, books and extracurricular activities related to the subject matter. 
That makes Okade's achievement all the more inspiring. 
Of course, all this may sound like a lot for a 10-year-old to think about, and it might even make some question if she's being pushed too hard by loved ones. But according to Okade's parents, their daughter is pursuing her dreams on her terms. 
"From the age of 7, Esther has wanted to go to university. But I was afraid it was too soon," her mother, Efe, told the Telegraph. "She would say, 'Mum, when am I starting?' and go on and on and on. Finally, after three years she told me, 'Mum I think it is about time I started university now.'"
Hopefully Okade's story will inspire the upcoming generation of girls, especially girls of color, to think more seriously about becoming chemists, engineers, code developers or mathematicians. After all, it's clearly never too early to dream big. 
h/t The Root