Disney Has Amazing News for People Who Miss 'DuckTales'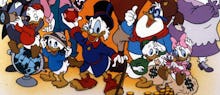 In news that should make DuckTales fans everywhere go "A-whoo-oo!" — Disney is bringing the beloved series back on television.
Timed to the 30th anniversary of the original late '80s series, which ran for 100 episodes from 1987-1990, the new incarnation of DuckTales will follow the first series' beloved central characters Scrooge McDuck and his great-nephews Huey, Dewey and Louie, plus O.G. Donald Duck. According to TV Guide, Disney said in a statement that the revived series would "bring that same energy and adventurous spirit" from the original show.
DuckTales is the latest in a line of series brought back for additional seasons: The Comeback recently completed its second season a decade after the first wrapped up, and Twin Peaks is set to return for a third season in 2016. Even among kids shows, Girl Meets World on the Disney Channel acts as an extension of its predecessor Boy Meets World, with the latter's protagonists Cory Matthews and Topanga Lawrence cast as parents to a new generation of kids. (A similar setup was used for TNT's revival of Dallas, both an independent series and tied through the new cast's parents to the original show.)
Though it's tempting to label these revivals as naked nostalgia bait hoping to trade in on millennial fondness for childhood, the charge isn't as clear cut as the same accusations made against certain silver-screen adaptations. As opposed to trying to replicate or replace what came before, these new series are extensions of their former selves, adding to the world of a show rather than seeking to replace it. 
The new DuckTales will be aimed at a younger audience, much like Girl Meets World, but seeing the familiar characters will be incentive for parents (or other adults) who grew up with the series to watch with their own children. It's not nostalgia bait — it's nostalgia-plus.
Fans old and new looking to catch up can watch all 100 previous episodes on Disney Channel's app. The revival will air on Disney XD in 2017.