11 Songs Prove the History of Music Is All About Cultural Appropriation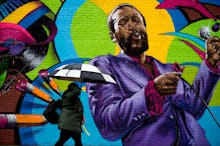 The Washington Post/The Washington Post/Getty Images
On Tuesday, the long-awaited Robin Thicke trial officially began. A jury will decide whether his song "Blurred Lines" ripped off Marvin Gaye's "Got to Give It Up." But the jury is looking at plagiarism, when in fact the real crime here is appropriation. The song is as much a cultural theft as it is a literal one.
Robin Thicke and Miley Cyrus' VMA performance was the spark that ignited the still-raging discussion of cultural appropriation in music. After the racially charged performance, Vulture music critic Jody Rosen wrote, "As Cyrus stalked the stage, mugging and twerking, and paused to spank and simulate analingus upon the ass of a thickly set African-American backup dancer, her act tipped over into what we may as well just call racism."
The act of cultural appropriation carries racial, colonial and socioeconomic implications, and "appropriation" is negative by definition: taking something without asking. Some argue that cultural appropriation falls short of theft because, while melodies and ideas can be stolen, the victim of appropriation isn't necessarily left with less. While that's true in some cases, a cultural appropriator should be sensitive to the racial politics at play. Cultural appropriation in music can be potentially damaging to a culture, but it can also be creatively empowering. Nowhere is this complex dynamic clearer than in modern popular music, one of the biggest battlefields of cultural appropriation. 
Here's a short history of the 11 most important songs in that long history — songs that show both the dark side of appropriation and the bright side of appreciation. 
1. "Tutti Frutti" by Pat Boone, 1955
"Tutti Frutti" was written by Little Richard in 1955, and two months later, country star Pat Boone picked up the song and tried to convince everyone that it was his. As the announcer in the video above says, "This is 'Tutti Frutti,' and here to sing it in person is the man who made it a hit." The obvious problem there is that Little Richard made it a hit two months earlier when his version reached No. 17 on the charts. 
But Little Richard's version was too "raunchy, raucous and suggestive," so Boone's version got a makeover for American audiences; his version reached No. 12 on the charts. This song is one of the early examples of when white musicians basically stole African-American songs and passed them off as their own. It wasn't a pretty moment for American popular music, and it would have long repercussions through Elvis' career especially in the years to come.
2. "The Lion Sleeps Tonight" by the Tokens, 1961
Solomon Linda, a South African musician, wrote this song in 1939. A little while later, song collector Alan Lomax got a hold of the recording and took it to his friend, folk legend Pete Seeger. Seeger and his band The Weavers got it on the charts, but Seeger's mix-up in the Red Scare dropped the single, then called "Wimoweh," into oblivion. In 1961, Brooklyn band the Tokens recorded the song, and "The Lion Sleeps Tonight" went on to reach the top of the charts (and eventually The Lion King).  
In 2000, Rolling Stone wrote a history of the song aptly titled, "In the Jungle: How American music legends made millions off the work of a Zulu tribesman who died a pauper." The original African lyrics were warped into gibberish because none of the American singers could understand the words; American audiences wanted an exotic song without any of the political trappings. "The Lion Sleeps Tonight" is a perfect example of how not to culturally appropriate music. 
3. "Norwegian Wood" by the Beatles, 1965
This short song was, according to historian Peter Lavezzoli, the first time a rock band used the Indian sitar. Beatles guitarist George Harrison first heard the sitar, an ancient stringed instrument that resembles a long-necked guitar, when he heard a Ravi Shankar record. Shankar was arguably the most famous modern sitar player (also Nora Jones' father), and he even gave Harrison lessons.
Shankar was torn about whether he felt comfortable sharing the sitar with the Western world. In 1971, he said, "I wonder how much they can understand, and where all this will lead to. There is so much in our music that goes back thousands of years." He faced criticism from Indian musicians, but "Norwegian Wood" was really one of the first songs to introduce the idea of world music to the popular scene. The Beatles were famous allies of Asian religion and managed to celebrate Indian culture without exploiting it.
4. "Tumbling Dice" by the Rolling Stones, 1972
The Stones were so heavily influenced by the blues that their name comes from the Muddy Waters song, "Rollin' Stone." Muddy was one of the most influential artists of all time for rock 'n' roll, and the Stones were deeply indebted to that tradition. In fact, before they made it big, the British band mostly tried to emulate R&B artists by covering songs like Willie Dixon's "Down in the Bottom." 
Keith Richards and Mick Jagger have been very open about their admiration for the African-American blues and jazz tradition. In 1986, the Rock and Roll Hall of Fame asked Richards to introduce Chuck Berry, Richards' biggest hero. He joked on stage, "It's very difficult for me to talk about Chuck Berry 'cause I lifted every lick he ever played. This is the gentleman who started it all, as far as I'm concerned." The Stones' tradition of cultural appropriation is a model for aspiring musicians — not the lifting part, but the clear and conscious tribute. 
5. "D'Yer Mak'er" by Led Zeppelin, 1973
By 1973, Bob Marley was a household name and Zeppelin wanted a piece of that sweet reggae action. The title of the song comes from a Cockney joke, according to Jimmy Page: "The first man says, 'My wife went on holiday.' And the second man says, 'Jamaica?' As in, the island of Jamaica. And he says, 'No, she went on her own accord.' So, in other words, 'Did you make her' became 'D'yer Mak'er.'" 
In a spot-on review, Rolling Stone wrote in 1973, "'D'yer Mak'er' is a pathetic stab at reggae that would probably get the Zep laughed off the island if they bothered playing it in Jamaica. ... Led Zeppelin shows little understanding of what reggae is about — 'D'yer Mak'er' is obnoxiously heavy-handed and totally devoid of the native form's sensibilities." The title alone is enough of a hint that the band was grossly insensitive to Jamaican culture. 
6. "Crosseyed and Painless" by Talking Heads, 1980
When this single from the African-inspired Remain in Light first hit the radio, Rolling Stone said, "This is [Talking Heads'] brave, absorbing attempt to locate a common ground in today's divergent, often hostile musical community." That sounds familiar. Though they were technically a new wave band, Talking Heads often borrowed from music around the world for their compositions, especially thanks to producer Brian Eno.
"Brave" is probably too strong a word, considering it's not like they "discovered" African music (unless you mean it like Columbus "discovered" America in 1492). It is an interesting mix of African instrumentals and new wave sensibilities, though. Talking Heads made "Crosseyed and Painless" their own song while even-handedly incorporating African music without ripping it off. 
7. "Graceland" by Paul Simon, 1986
Paul Simon wrote the album Graceland in Johannesburg, after the songwriter heard a tape of South African street music and tracked down the people who made it. The recording of Graceland was shrouded in controversy, as Simon made the album in South Africa during apartheid; the U.N. had sanctions against the country at the time. 
But Graceland went on to become one of the most universally loved records of all time. Nearly all of the back-up singers and instrumentalists in the studio with Simon during the recording were local Johannesburg musicians. And Simon had a big hand in bringing the choir Ladysmith Black Mambazzo into mainstream culture, even performing live with them on Saturday Night Live. "Graceland" is a great example of collaborating with a culture to make a new musical style. 
8. "Fight for Your Right" by Beastie Boys, 1986
The Beastie Boys were the first ever popular white hip-hop group, according to Rolling Stone. Though the trio came from privileged Jewish backgrounds, they were heavily influenced by early hip-hop. They worked on "Fight" with producers Rick Rubin and Russell Simmons, the duo who founded hip-hop label Def Jam in 1984. 
Hip-hop undeniably has its roots in African-American culture, but as one blogger pointed out, "the Beastie Boys' early presence demonstrates hip-hop's rather multiethnic roots." Not only that, but the Beastie Boys were also amazing musicians, and they deserve a place in the hip-hop canon. It's slightly problematic that the trio had the first platinum hip-hop album; it lends a lot of credence to the argument that white artists sell better than black artists. But as Pitchfork so eloquently described the trio's place retrospectively, "The Beasties didn't give a fuck — and America desperately needed to be shown how not to give a fuck." 
9. "Spiderwebs" by No Doubt, 1995
No Doubt, fronted by Gwen Stefani, were first and foremost a ska band. Ska was a precursor to Jamaican reggae and rocksteady, and No Doubt were heavily influenced by the musical form. They were ska purists until they released their breakthrough album, Tragic Kingdom, which toned down the horns for a more mainstream approach. In 2001, the band traveled to Jamaica to record their album Rock Steady. 
Though the band had to Americanize ska in order to make it big, the most compelling argument says that No Doubt "gave ska a chance." In the end, ska was a declining art form and No Doubt helped bring attention of the form to the mainstream. What's less great is Stefani's weird cultural dabbling with Harajuku Girls in the 2000s. As Time put it, "The pop star used Asian women as props." That pretty much sums it up. 
10. "Back to Black" by Amy Winehouse, 2006
Winehouse borrowed a lot of her musical stylings from '60s girl groups the Ronettes and the Supremes. This vintage soul song, produced by Mark Ronson, was the example that proved the rule. Winehouse helped usher in a resurgence of modern soul, paving the way for (white) artists like Adele and Sam Smith.
But what's really problematic about Winehouse is that, while her music was vintage, so were her politics. Remember the video of her singing racial slurs to the tune of "Head, Shoulders, Knees and Toes," surrounded by crack paraphernalia? Though Winehouse may have been in a compromised state, it wasn't a good look and was especially bad form on the cultural appropriation front.
11. "Uptown Funk" by Mark Ronson, 2014
In an interview with NPR about the politics of music sampling, Ronson said, "Even if you're telling yourself you're not stealing, subconsciously you are influenced whether you like it or not. But the most important thing is what you do on top of it, and how you make it your own and combine all those influences to make something new." This hit is a throwback to vintage soul, but Ronson has undeniably made it his own.