Houston Finds 850 DNA Matches in a Backlog of 30 Years of Untested Rape Kits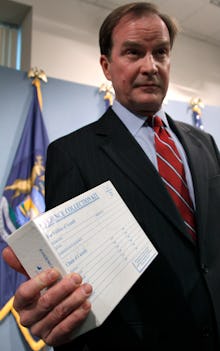 On Monday, Houston officials announced that they had finally completed analyzing back-logged DNA evidence in 850 of 6,600 sexual assault cases. The District Attorney's Office filed 29 charges based on the findings, resulting in six convictions so far, and suggested it has years' worth of leads on other cases.
But some of the cases being investigated happened 30 years ago. Where did all of this incriminating DNA suddenly come from, and what were all those suspects doing in the meantime? As the Houston Chronicle reports, city police sat on three decades of unexamined rape test kits. In six of those 29 cases, suspects have been tied to other rapes committed while evidence that might have landed them in police custody sat unnoticed.
In the remaining hundreds of cases, the DNA either confirmed that the correct suspect had already been convicted or could not identify a potential suspect. In a few, investigators found links to other predators whose identity remains unknown.
By the numbers: Despite stretching back to the 1980s, none of the 6,600 rape test kits had been looked at before 2013, when the Houston Chronicle reports that the city finally approved $4.4 million in funding for two independent labs to process them. Of the total, 2,305 (or 34.6%) contained DNA evidence. When entered into the FBI's Combined DNA Index System, a national database that law-enforcement agencies use to share information, 850 of the cases came up with connections to existing profiles. The project was only completed in fall 2014.
City officials admitted that of the six repeat offenders identified in the 29 charges, several could have been caught before they committed another assault had the information been cross-referenced with databases in time.
The rest of the country: What happened in Houston happens all over America. "It is significant that the city of Houston is among the first cities in the country to completely eliminate its backlog of untested sexual assault kits," Mayor Annise Parker told reporters, according to the Houston Chronicle. "Because remember: This was not a Houston problem, this was not a Texas problem; this was a nationwide issue that built up over years and years."
The BBC reports that, since 1999, additional backlogs of 11,000 kits had been identified in Detroit, 4,300 in Cleveland, 12,000 in Memphis and 17,000 in New York. In 2011, the L.A. Times reported that Los Angeles officials had only just finished a three-year effort to clear more than 6,000 kits dating back to the '90s.
How does this even happen? Many police departments simply didn't consider testing the kits a priority, either because they had identified a suspect known to the victim or the victim chose not to press charges. In some cases, the BBC notes, cities failed to allocate sufficient funding for the expensive endeavor of testing the kits and prosecuting the suspects. Then there were the times when police just didn't take victims seriously.
Rape, Abuse and Incest National Network Vice President of Public Policy Rebecca O'Connor, who has worked to pressure states into dealing with rape kit backlogs with the Rape Kit Action Project, tells Mic that there are generally two groups of untested rape kits: those that are not analyzed due to a policy decision and those that are misplaced or otherwise unintentionally forgotten.
In some cases, authorities are limited by a lack of resources and time. "Genuinely in some places we just didn't realize we had a problem," O'Connor says. "[But] the bottom line is: We don't know."
But most of the time, it's left to police discretion whether to proceed with further testing of forensic evidence, O'Connor adds: "In some places, they may say, 'Do we already know who the perpetrator of the crime is?'"
Sometimes, officials insist that "we don't have a problem here," O'Connor added. "We don't have a backlog. We've cleared our backlog."
"But that's not universal," she says. "It's not necessarily people hiding this issue, but being unaware until people force a spotlight on it."
Some victims whose kits go untested are not necessarily told why police aren't adequately investigating their report. "Frequently yes, there is that informational black hole that exists," O'Connor added. "So we need to do something to ensure that they are informed at every stage of the process about the status of their kit."
As a result, some people experience a "second victimization": A 2014 study conducted by Calvin College researcher Rachel Venema and published in the Journal of Interpersonal Violence shed some light at the root of the problem. Interviewing 10 officers at a mid-sized Midwestern police department, all of whom were involved in sexual assault investigations, Venema found that some officers were reluctant to pursue rape investigations without evidence of physical violence or because they didn't want to waste resources on a victim whose credibility they doubted.
Sometimes they would even urge the alleged victim to reconsider if the allegation was worth their time, as did one officer who explained how much of a hassle it would be to actually look for a serial rapist:
So you talk about that, because if what she is telling me is true, we got to dedicate a lot of resources to it. ... So, if we really got two guys raping people at random, that's a big deal for us, and we're going to investigate it hard, and we're going to have special patrols, and we're talking hundreds of hours, literally, on the police department. So, you sit down, and say: "Listen. Here's what we got. We might spend hundreds of hours on it. Right now it's nothing. I'll let you, you know, tell me the truth or, if you don't, here's what we're going to do, here's what our investigation will be." You know? And sometimes they'll recant, and sometimes they won't.
But statistical evidence doesn't back the viewpoint that false rape claims are more common than those from other kinds of crimes.
"The stereotype that false rape allegations are a common occurrence, a widely held misconception in broad swaths of society, including among police officers, has very direct and concrete consequences," a team of Northeastern University and University of Massachusetts Boston researchers wrote in a 10-year analysis of sexual assault data in 2010. "It contributes to the enormous problem of under-reporting by victims of rape and sexual abuse."
Whether it's due to skeptical investigators, poor resources or mismanagement, the result is that victims who are not taken seriously by authorities often experience a "second victimization"; they have not only been attacked by a sexual offender, but then they are scarred again by uncaring authorities and a dubious justice system. 
Why you should care: Failure to follow through on the rape kits has very serious consequences. And it's not just bad for victims whose rapists were never caught; it also endangers everyone else who is a potential future target. This kind of thing shouldn't be allowed to happen.
"For me, the worst case scenario is we run the profile of a number of these kits and we find out we got a serial rapist ... but he hasn't been caught ever," Tammy Kemp, the Dallas prosecutor in charge of backlog cases, told the BBC. "So we'll have a number of women who may have been raped by the same person, but we still don't know what his identity is."
The good news is that with increased attention from the media and new federal and state resources to clear the backlogs, old excuses for not dealing with the rape kits look increasingly untenable.
"The reasons for why it happened are less important than the reasons for why it can't continue," O'Connor told Mic, adding that states should develop plans to ensure that future cases are adequately investigated. "It's not about throwing money at the problem."