Weed Is Now Legal in the Nation's Capital — Here's Why It Won't Last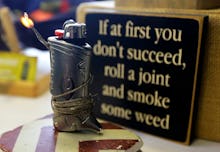 As of 12:01 AM on Thursday, it's legal to possess marijuana within the borders of the nation's capital. How long it remains that way, however, is an open question.
Washington, D.C., is in the midst of a complex legal battle with Republicans in Congress who claim that provisions in a federal spending bill passed in December prevent the voter-approved D.C. law from going into effect, and are contesting the legitimacy of the city's implementation.
"There are very severe consequences for violating this provision. You can go to prison for this. We're not playing a little game here," Rep. Jason Chaffetz (R- Utah) said in a letter to the mayor of D.C. on Wednesday.
Chaffetz's threat of imprisonment wasn't directed at D.C. residents whom he fears will start flooding the streets with marijuana — it was aimed at Washington D.C. Mayor Muriel Bowser and other top officials in the city for moving ahead with Initiative 71, the ballot measure legalizing marijuana that passed with overwhelming support from the city's residents during Election Day in November.  
D.C. fights back: "Your assertion that Initiative 71 takes effect on Thursday is contrary to law," wrote Chaffetz, and Rep. Mark Meadows (R-North Carolina) in a letter to Bowser Tuesday, according to CBS News. "We strongly suggest you reconsider your position."
But Bowser has refused to back down.
"We believe that we're acting lawfully," Bowser said, according to the Washington Post. "I have a lot of things to do in the District of Columbia... Me being in jail wouldn't be a good thing."
City officials contend that the provision in December's spending bill doesn't apply to Initiative 71, because it bars the enactment of new marijuana laws. In their eyes, the law was enacted well before the spending bill prevented such an act, on the day of the ballot measure last November. Now D.C. is just carrying it out, which the spending bill doesn't explicitly prohibit, according to the Washington City Paper's analysis.
Politico reports that the mayor is prepared for future showdowns as well: "When asked whether the city is prepared to defend against a legal challenge to the law, either from congressional Republicans or private citizens, Bowser said flatly: 'The city will defend the will of the people.'"
The city has also gained the support of four congressional Democrats. According to Politico, Rep. John Conyers (Mich.), Nita Lowey (New York), José Serrano (New York) and Elijah Cummings (Md.) put out a joint statement Wednesday submitting that D.C. "has the legal authority to implement Initiative 71."
Given the complexity of the political and legal mechanics at play, there isn't any consensus among Washington observers on how the legal status of marijuana will look in the near- or long-term future. For now D.C. has taken a bold step, but it's future remains hazy.