Three New Yorkers Arrested for Attempting to Join ISIS Are Only the Latest to Try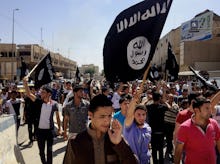 Three New York City residents have been arrested on suspicion that they were planning to join the Islamic State group and carry out terrorist attacks on American soil.
The Justice Department announced on Wednesday that the three men, identified in a criminal complaint as 19-year-old Kazakh citizen Akhror Saidakhmetov, 24-year-old Uzbek citizen Abdurasul Hasanovich Juraboev and 30-year-old Uzbek citizen Abror Habibov, are suspected of being involved in providing material support to the Islamic State group. All three live in the borough of Brooklyn; both Saidakhmetov and Juraboev are accused of planning to fly to Istanbul in order to cross the border into Syria and join the militant group for training purposes.
The allegations: According to the criminal complaint, Juraboev first came to the attention of FBI agents when the following comment on Uzbek-language pro-Islamic State website Hilofatnews was traced to his I.P. address:
Greetings! We too wanted to commit pledge our allegiance and commit ourselves while not present there. I am in USA now but we don't have any arms. But is it possible to commit ourselves as dedicated anyway while here? What I'm saying is, to shoot Obama and then get shot ourselves, will it do? That will strike fear in the hearts of infidels.
In mid-August, FBI agents questioned Juraboev. He admitted to posting the message and supporting Islamic State, as well as telling agents that he would like to travel to Syria to "engage in violence on behalf of ISIL." Then a few days later, he told law enforcement that "if ISIL ordered him to kill President [Barack] Obama, he would do so."
Later, the FBI intercepted messages between Juraboev and an Islamic State web administrator in which Juraboev asked for help getting to Syria, but clarified, "If right now I decide to go to the airport and go anywhere, except for Uzbekistan, they may arrest me. It's because of what I told them about Obama."
Saidakhmetov was apparently also interested in joining the Islamic State group, and the two began planning their way there together. Saidakhmetov told a confidential informant assigned to monitor the two that if he was unable to get to the Islamic State group:
"I will just go and buy a machine gun, AK-47, go out and shoot all police ... it is legal in America to carry a gun. We will go and purchase one handgun ... then go out and shoot one police officer. Boom ... then, we will take his gun, bullets and a bulletproof vest ... then we will do the same with a couple of others."
Not exactly an elaborate plan.
Habibov was apparently involved in funding Saidakhmetov's trip, and was recorded discussing the specifics of the plan with him. Much like his compatriot predicted of himself, Saidakhmetov was arrested at the airport attempting to board a flight for Turkey. He had apparently planned to throw off airport security by buying an additional ticket to Uzbekistan and presenting it at the airport if cornered.
Clearly, these weren't the smartest terrorists in the world: From bragging to the FBI about their intent to kill the president to bungling buying tickets and blabbing to a criminal informant, the alleged Islamic State wannabes don't appear to have been very discreet about their plan to bring the Islamic State's violent religious militancy to American soil. As such, it's unclear whether they were ever actually in a credible position to launch an attack.
They're not the first American residents who have decided to fight in the Syrian conflict. In March 2014, Vice reported that two men claiming to be "Creeper" and "Wino," respectively members of Los Angeles' GW-13 and Westside Armenian Power gangs, were posting videos from Syria fighting for Alawite dictator Bashar Assad.
"In Middle East, homie, in Syria, still gangbanging, not giving a fuck, homie," the tattooed man identifying himself as Creeper says in the video.
Altogether, around 20 people in the U.S. have faced charges for planning to fight with militant groups in Iraq. The International Centre for the Study of Radicalisation and Politics now estimates that roughly 20,000 foreign fighters now serve in Sunni militant organizations in Syria and Iraq, including about 100 Americans. It also estimates that 5% to 10% of them have died, while an additional 10% to 30% had decided to leave.
Don't panic, though: Not all of these recruits may be battle-hardened terrorists. As the New York incident shows, many of the supposed jihadis aren't particularly competent and leave an obvious trail for the authorities to follow.
"If you come from the West, don't speak Arabic, you're not a particularly good fighter and don't have a particular skill, [the Islamic State group] will probably still accept you. Jabhat al-Nusra is a lot more selective, for example," ICSR director Peter Neumann told WorldPost last year. "You have to bring references and have to show that you're quite religious and can be useful to the group."
Still, returning fighters certainly pose a threat to the security of their home countries, as their ranks almost contain some planning  to commit attacks with their newfound training. But former MI5 and MI6 director Richard Barrett told the Guardian that the many fighters seemingly turned off by their actual experience in the Islamic State could play a role in cautioning others against doing so. "These are the people who can expose the true nature of [ISIS] and its leadership," he said, according to the Guardian. "Their stories of brutality and the motives behind it will be far more credible and persuasive than the rhetoric of men in suits."