Kanye West Just Debuted His Brand New Single With This Amazing Performance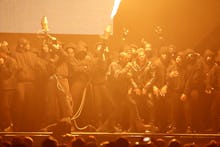 Kanye West just blew minds at Wednesday night's Brit Awards in London. He debuted his newest single, "All Day." It's a classic adrenaline-fueled, anthemic Kanye rap — a bold innovation on hit songs like "Power."
The song has been rumored since several low-quality leaks emerged in August 2014. But no one likely expected that when the track finally did premiere, it would hit like this. 
West's dynamic performance, replete with flamethrowers and a mob of men in black hoodies, left the crowd stunned. No one looked more awestruck than his new friend Taylor Swift, whose jaw looked ready to hit the floor.
The new track is a definite change of pace from West's two most recent releases, the subdued and elegant "Only One" and the Rihanna and McCartney-assisted "Four Five Seconds." It's bound to crank the anticipation for his upcoming album to a fever pitch. 'Ye recently shared that his album is "80% done." We can't wait any longer.
h/t Pitchfork