The Scientific Reasons You Should Definitely Date Someone With a Tattoo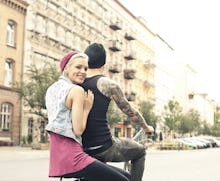 Bikers. Sailors. Convicts.
Tattoos have long been associated with the rebellious and the reckless, the irresponsible and the unprofessional. But today, tattoos aren't the bold symbol or social statement they were a few decades ago. According to the Pew Research Center, nearly 4 in 10 millennials have a tattoo. Of those who do, about 50% have two or more. 
Tattoos are officially the new normal. That might be because getting inked does not signify living an unconventional lifestyle or having fringe values. In fact, tattoos indicate many wonderful qualities about a person, particularly in the context of relationships. 
Here are some reasons, according to science, that people with tattoos may actually be the greatest to date. 
1. 
Since tattoos are so visible to the outside world (especially in the summer), they serve as compelling conversation starters. In fact, a 2013 study published in the Archives of Sexual Behavior that placed non-inked and tattooed women on a beach found that men were much more likely to approach women sporting tattoos. In the study, it took the men an average of 11 minutes less to approach the inked women. The study also concluded, "Men estimated to have more chances to have a date and to have sex on the first date with tattooed" participants. 
Not only do people make assumptions that those with tattoos might be more willing to talk to a stranger, but tattoos are a conversation piece for that opening line — "Where'd you get that?" or "Nice tattoo. What's it mean?"  
"If a girl is attracted to me, it's definitely a great topic," Mark Fuentes, a Massachusetts-based tattoo artist, said to Mic.
2. 
While getting tattoos isn't necessarily compulsive or irresponsible, studies have shown that people who get inked are more prone to risk-taking. While some risky behaviors are less desirable than others, an adventurous person can bring all sorts of benefits to a relationship.
"I have nine tattoos so far and I have dated two women with tattoos. I do find women, and a handful of men, with tattoos attractive. There's something kind of cool and wild about them that I guess I don't see in myself," explains Ryan, 26, to Mic.
And that "wildness" and openness to new experiences means they're more likely to find unexpected opportunities in relationships.
3. 
"I think it shows a certain bravery, and overall badassness," Fuentes says of when he first sees somebody with a tattoo. Indeed, a tattoo might mark someone as brave and confident. And confidence pays off in relationships — a person with more confidence feels less insecure and more trusting. 
A 2011 study discovered that tattooed men and women reported high self-esteem, low appearance anxiety and high body appreciation in three weeks after getting their tattoos. 
As Fuentes put it to Mic, "Do tattoos have the power to effect the perception of every single person you meet or even just sees you? Yeah."
A small survey conducted by therapist John D. Moore found that 85% of the women surveyed viewed men with tattoos as more fun, and 68% associated them with confidence. In fact, OkCupid co-founder Christian Rudder analyzed what makes people appear attractive on the dating site and found that women garner interest by playing up what makes them unique. Tattooed women "show off what makes them different, and who cares if some people don't like it. And they get lots of attention from men," he concludes.
This level of confidence and self-awareness might translate to a more liberal attitude towards sex. A 2012 study from the Journal of Sexual Medicine found that people with tattoos usually have their first sexual encounter at an earlier age and had sex more frequently than their non-tatted counterparts. While the study confirmed that tattoos weren't associated with risky sexual behaviors, the study suggests tattooed people are open sexually and might sooner act on those desires.
4. 
Tattoos inevitably send all sorts of messages out to the world. Whereas historically tattoos were used to mark ourselves as part of a tribe or community, their messages are now more personal. Professor Nicholas Thomas, Director of the Museum of Archeology and Anthropology at Cambridge University, told CNN that "body art is becoming the opposite of conformity, a sort of badge of travel, or internationalism. People visit places and make them parts of themselves, so that they will forever bear marks of their unique visit."
He added, "Our identities are far more particular, linked to our interests, affinities to cultural or spiritual traditions, tastes in music, and subcultural allegiances. The tattoo has become a vehicle for that sort of particular identification."
Using a visible mode of expression contributes to the perception of tattooed people as being more open and unguarded. For some, a tattoo can indicate a generosity of spirit. "A tattoo allows me to permanently express myself and hold a moment forever. My tattoos are a bouquet of memories that I've shared with people I love, people I used to love, and most importantly, memories with myself," said Kristin Collins Jackson on Bustle. 
Ryan sees tattooed people as ready to share more stories and share their own "cultural beliefs." And science has shown that self-disclosure and free expression are the cornerstones of intimacy.
Since tattoos are almost always symbolic of something else, they can also indicate depth. "Personally, I always have a sense of 'there's more to this person than I think' when I see a tattoo. Tattoos are commitments. In a way, it's a commitment to standing for something for the rest of your life," explains Susan, 26, who tends to date tattooed guys. 
And who isn't looking for more signs of commitment when dating?
*Some names have been changed.