11 Beautiful Photos That Challenge Stereotypes About Homeless LGBT Youth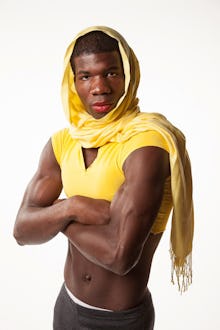 Marriage equality may be the LGBT issue dominating mainstream media headlines, but there's another pervasive problem affecting these communities that gets significantly less attention: homelessness. This is a major oversight, given that as much as 40% of homeless youth is LGBT identified, according to a recent study by the Williams Institute. The leading cause of this homelessness? Family rejection after coming out.
The issue is one that photographer Joan Lobis Brown hopes to address through her beautiful portrait project featuring captivating images of at-risk LGBT youth. 
"When I photograph the emotionally 'isolated,' it is my goal for viewers to look at my photographs and to find something they can relate to and empathize with — a gesture, a posture, an emotion revealed — or, on perhaps a more profound level, lead the viewer to identify with the outsider that lurks even within the most secure of us," Lobis Brown told Mic. 
"During various times of my life, I have felt an acute sense of being isolated," Lobis Brown said. It was this experience that inspired the project, a collaboration with the organization New Alternatives for LGBT Homeless Youth.
Homeless LGBT youth often must "survive on the streets by their own wits and form communities," Lobis Brown said. "Many people are unwilling or afraid to look at these youth because they appear strange or different, but in fact, they have friendships and seek love and approval, just like everybody else."
Human Rights Campaign Vice President Jeff Krehely noted in an interview with the United States Interagency Council on Homelessness that this homelessness epidemic may be caused by LGBT-identified youth feeling encouraged by a more accepting cultural climate to come out earlier, while still facing closed-minded families or abusive school environments.
"They fall through a series of failing support systems," Krehely told the council when he was director of the LGBT Research and Communications Project at the Center for American Progress. "It's a chain reaction. Rejection leads them to run away from home (if they aren't physically locked out) and then they end up dropping out of school, and tumble from a stable life in a family to couch surfing, living at a shelter or in foster care, and ultimately end up on the street."
Geography also plays a factor, says Kate Barnhart, who works with New Alternatives for LGBT Homeless Youth, an organization that "provides a range of services to help LGBT youth move from homelessness to stable adult lives." When LGBT youth in "red" states are rejected by their families for religious or other cultural reasons, they often come to New York City or other urban centers looking for safety and acceptance, she said, where they are hardly immune from challenges like poverty and a lack of affordable housing.
Barnhart notes that once homeless, LGBT youth face are often further isolated by stereotypes perpetuated about homelessness in general. "People will say to me 'I don't see these youth,' but that's because they are looking for the stereotypical homeless person," she told Mic. "Homeless LGBT youth go to great lengths not to 'look homeless' — they come to our office and choose new clothes from our donations and pick up some soap and deodorant so they can maintain their hygiene."
Lobis Brown found that in response to this isolation, no matter if forcefully imposed by discrimination or passively created by lack of recognition, the LGBT youth she encountered, "turned out to be a community that formed relevant relationships" and "have found a way to pursue happiness in our society" in the face of adversity. It's a type of resilience her photographs capture well. 
Ultimately, she hopes her work will change hearts and minds and encourage individuals to embrace — rather than isolate — those who are different. This project, the photographer said, is an attempt to "lead the viewer to a better understanding of both isolation and interconnectedness — so that we can aspire to treat each other and our planet better."
All images © Joan Lobis Brown; www.joanlobisbrown.com