Robin Thicke and Pharrell's "Blurred Lines" Trial Is Actually Insane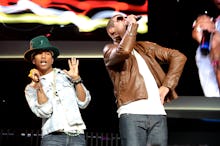 The "Blurred Lines" trial kicked off Tuesday, and some crazy things have been going on in that courtroom: drug use defenses, piano medleys, racy music videos and the strangest jury screening. The high-profile trial will determine whether Robin Thicke, Pharrell and T.I.'s 2013 smash "Blurred Lines" ripped off Marvin Gaye's 1977 hit "Got to Give It Up." It will also demonstrate just how incompatible the music industry and the American legal system are.
Thicke and Pharrell brought a preemptive lawsuit against the Gaye estate in August 2013 in an attempt to shield "Blurred Lines" from potential litigation and claims of copyright infringement. The Gaye estate counter-sued, claiming that "Blurred Lines" took enough musical elements from "Got to Give It Up" to constitute theft. But Thicke and Pharrell claim that, while the songs may sound alike, "There are no similarities ... other than commonplace musical elements." Since that time, in the deposition and the first days of the trial, this whole thing has gotten entirely out of hand.
Here are highlights from this wild trial, deposition and all, so far:
The piano medley
According to Austin Siegemund-Broka at the Hollywood Reporter, Thicke broke out his skills on the stand and played a medley of songs for the jury in an attempt to prove that lots of popular songs have similar elements, but that doesn't necessarily mean they're stolen. The singer and piano player performed a mash-up of Michael Jackson's "Man in the Mirror," U2's "With or Without You," the Beatles' "Let It Be," Bob Marley's "No Woman No Cry" and Alphaville's "Forever Young." According to the LA Times, Thicke did all of this in a 3-foot witness box while doing a little dance. Might we suggest not ripping off someone else's medley in order to prove that you aren't a plagiarist?
This hearkened back to the very weird moment in the deposition when the Gaye's attorney played a mash-up of "Blurred Lines" and "Got to Give It Up." At that point, Thicke pleaded with him to stop the music. "It's so hard to listen to it," Thicke testified. "It's like nails on a fucking chalkboard. ... This is [like] Stanley Kubrick's movie Clockwork Orange, where he has to sit there and watch. ... Mozart would be rolling in his grave right now." 
The drug defense
Part of the Gaye family's defense is that Thicke gave several interviews to the press after "Blurred Lines" came out, including one with GQ in which Thicke said, "Pharrell and I were in the studio and I told him that one of my favorite songs of all time was Marvin Gaye's 'Got to Give It Up.' I was like, 'Damn, we should make something like that, something with that groove.'" 
Thicke's defense is simply, "I was high and drunk every time I did an interview last year. So there are some quotes I don't remember saying." According to his testimony, his favorite cocktail at the time was a water bottle filled with vodka and a Norco, an intense version of Vicodin. To seal that airtight defense, Thicke added that he's off Norco now but he still drinks.
The public lies 
According to the Hollywood Reporter, Thicke claimed on the stand that, even though he told the press that he and Pharrell wrote "Blurred Lines" in the studio together, that's actually a lie. "I was jealous and I wanted some of the credit," Thicke said. "I tried to take credit for it later because Pharrell wrote the whole thing pretty much by himself and I was envious of that." 
Now he's backtracking, saying that he wasn't even present during the songwriting process; he says he told Billboard that story because he "thought it would help sell records." Thicke's lawyer said, "He was supposed to be in the studio with Mr. Williams, because that's the way Mr. Williams likes it, to have the artist there, but it came to 10 at night and Mr. Thicke was nowhere to be found. Mr. Williams sat down and wrote the song, wrote the music, in an hour."
Pharrell
At one point during the deposition, the Gaye estate's lawyer asked Pharrell whether he could read sheet music, and Pharrell said that he could. But when the lawyer presented Pharrell with the music and asked him to identify some of the chords, Pharrell said, "I'm not comfortable" eight times before the lawyer finally let it go. The lawyer followed up by asking Pharrell whether he was influenced by Marvin Gaye at all, and Pharrell responded, "He's an Aries. I respect him." 
The jury screening
Before testimony began, jurors were selected for the trial. According to the Hollywood Reporter, Thicke's lawyer asked potential jurors whether they were offended by the "Blurred Lines" music video, which was criticized for being "rapey," and featured topless women dancing. One juror responded, "I have two young daughters. I'm trying to raise them to be empowered and not use their sexuality to sell things." She was dismissed from the trial.