2 Years After Raising Taxes on the Rich, Here's the Hellscape Minnesota Has Become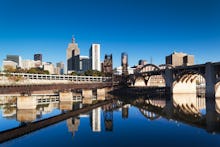 Since 2011, Minnesota has been doing quite well for itself. The state has created more than 170,000 jobs, according to the Huffington Post. Its unemployment rate stands at 3.6% — the fifth-lowest in the country, and far below the nationwide rate of 5.7% — and the state government boasts a budget surplus of $1 billion. Forbes considers Minnesota one of the top 10 in the country for business.
Given that Minnesota's governor is a well-connected millionaire whose family controls the Target fortune, one could be forgiven for thinking this was the result of embracing the corporate world. But in fact, over the past four years, the state has undergone a series of policy reforms that most of the corporate world decries: It has imposed higher taxes on the wealthy and raised the minimum wage.
When each of these progressive policies was initially proposed, Minnesota Republicans made dire predictions about their effects on the economy, and argued that bleeding-heart concerns about economic fairness would stifle growth. Despite all the warnings, Minnesota's economy hasn't tanked. Instead, it's sailing with greater force than it has in years.
How Minnesota did it: The progressive economic policies in the North Star State came into being after the election of Democratic Gov. Mark Dayton. In 2010, Dayton surprised many political observers in Minnesota when he managed to win the governor's mansion, the first Democrat to seize it in more than two decades. His political career up until that point was mainly defined by failure, despite the fact that he was a billionaire heir with countless resources.
Dayton's margin of victory wasn't impressive, but he was eventually able to make a dramatic mark on the direction of the state's public policies. He instituted a wide variety of progressive policies that rendered him the "most liberal governor in the country in terms of his willingness to raise taxes and to spend," University of Minnesota political scientist Larry Jacobs told Mother Jones.
In the last few years, Minnesota took a number of measures to make its taxation and wages more progressive. Mother Jones reports that Dayton targeted the top 2% with a tax raise — "one of the largest hikes in state history." Corporate taxes increased. The state income tax on the highest earners increased to 9.85% in 2013, making it the fourth highest in the nation, according to the Tax Foundation.
The state's minimum wage is set to increase to $9.50 by 2016, and last year Dayton signed a sweeping bill strengthening protections for women in the workplace and guaranteeing equal pay. Other progressive measures have included a tuition freeze at public universities and two-year colleges, increased spending on public education and increased unionization, according to Mother Jones.
The critics who feared Dayton's campaign to have the top 2% pay their fair share would ruin growth and cause business interests to flee appear to have been crying wolf. Minnesota's labor market is healthy. Minnesota was ranked one of the fastest-growing economies in the country by the Bureau of Economic Analysis in 2013. Gallup found economic confidence in the state to be the highest in the nation.
A tale of two states: As Minnesota has enjoyed economic success, observers have often compared the state's situation to that of its neighbor Wisconsin. Republican Scott Walker also won the governor's mansion in Wisconsin in 2010, but pursued a deeply conservative agenda for managing the economy. He made huge spending cuts to vital services ranging from education to health care. He reduced taxes on the wealthy, and got rid of tax credits for low-wage earners.
By a number of measures, Wisconsin hasn't fared as well as Minnesota. As the Milwaukee Sentinel Journal reports, Wisconsin's job growth has been among the worst in the region, and income growth is one of the worst in the country. It has a higher unemployment rate than Minnesota. And the budget is in bad shape: 
Our transportation budget has a $750 million hole in it, our health care budget is $760 million in the red, and that's all on top of a $1.8 billion general budget deficit. Add it up and Walker has essentially taken a balanced budget and turned it into a deficit nearly as large as the one created by the worst economic disaster since the Great Depression.  
Now, no political leader can take full credit or blame for the economic health of the state they oversee — the economy is shaped by a number of structural factors and historic trends that any one politician has little control over. Consider, for example, that Minnesota's economy was outperforming Wisconsin by a number of measures beginning earlier than the recession.
But here's what we can say: Dayton's progressive vision for Minnesota has not ruined the economy, and has likely helped it. Walker's conservative vision has clearly not ushered in the free market paradise he envisioned. And it's noteworthy that since the Great Recession and the implementation of their divergent philosophies, Minnesota's economy has pulled further ahead of Wisconsin in several areas.
What's next? While Walker spends time running for president and making ill-advised comparisons between fighting organized labor and battling the Islamic State group, Dayton is busy thinking about how to invest in the ordinary people who make up Minnesota's economy.   
Dayton began his second term in January and is already gunning to take advantage of his budget surplus. His new budget plan aims to boost spending on education from kindergarten through college, and he's angling to invest in public transit, paid sick time for workers and child care tax credits for middle-class families, according to Mother Jones. History suggests the investments will pay off.
Correction: March 3, 2015