Drake Just Made History by Doing Something No Other Hip-Hop Artist Has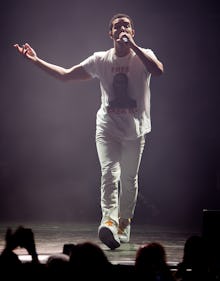 If you're reading this, it's too late — Drake has just remade Billboard's hip-hop charts in his own image.
Late Wednesday, Billboard announced the news that the entirety of Drake's latest album If You're Reading This It's Too Late is charting on the Billboard Hot R&B/Hip-Hop charts. Between those 17 tracks, and the four additional songs where he's a featured artist, Drake has a total of 21 songs concurrently charting. According to Billboard, this is the new record for most simultaneously charting songs from a single artist — it's something nobody else has pulled off. A whole 42% of the Top 50 is Drake. And he did it without gimmicky videos or radio premieres. The strength of the music alone got him to the top. Time to pop that champagne, Papi.
How is this even possible? This awe-inspiring chart domination is largely thanks to Billboard's 2012 decision to factor streaming numbers into chart position. At first, this caused all-stars on mainstream radio, like Taylor Swift and Rihanna, to skyrocket to the top of the charts. But over time, it's opened the door for songs that defy predictable pop structures. It's actually playing a real role in reviving albums.
Most of the songs on Drake's new album sound far too dark to work on pop radio. Songs like "Now & Forever" feature complex musical elements that would sound jarring next to a Taylor Swift or a Meghan Trainor jam. Similarly "Preach" and "Used To" are spare and atmospheric. Finally, bold artistic statements can more easily find their home in popular music.
A new day for hip-hop. Drake's victory proves you can find success outside the radio formulae. If other rappers take note, they'll realize they can focus on crafting sonically cohesive albums without sacrificing chart success. This only means good things for music and for the album's longevity. Whatever happens, Drake has proven himself an undeniable musical force of nature. And he might just do it again later this year.
h/t Billboard