The FCC Has Voted in Favor of Net Neutrality, Classifying the Internet as a Public Utility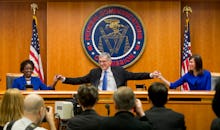 The debate over net neutrality is officially over — and free Internet has won.
On Thursday morning, the Federal Communications Commission voted 3-2 in favor of rules that reclassify broadband Internet service as a utility, effectively prohibiting service providers from blocking sites or apps, charging users extra to surf the Web at full speed or operating paid "fast lanes" for specific services or websites like Netflix or YouTube.
"The action that we take today is an irrefutable reflection of the principle that no one, whether government or corporate, should control free and open access to the Internet," said FCC Chairman Tom Wheeler during the meeting, according to the Verge.
Rather than the relatively regulation-free marketplace that's made up the Internet Service Provider network to this point, the online world will now be treated like the rest of the heavily regulated telecommunications world, which has a number of restrictions aimed at protecting consumers and preventing corporations from unfair pricing.
"Today's vote is the fruition of a decade-long fight by those of us who believe in preserving the Internet as a level playing field," Adam Green, Progressive Change Campaign Committee co-founder, said in a statement sent to Mic. "Protecting Net Neutrality through reclassification is the kind of big, bold idea that is hugely popular with Americans of all political stripes."
In the lead-up to the vote, public sentiment was generally in favor of free and open Internet. A recent national poll of 1,500 likely 2016 voters conducted by the Progressive Change Institute and GBA Strategies found that 61% of all voters supported net neutrality, with only 26% opposing.
However, pressure also came from the conservative Right. In January, Sen. Deb Fischer (R-Neb.) accused President Barack Obama of pushing a "federal takeover of state laws governing broadband and the Internet," reports Fox News. In the past weeks, Republicans made a final push as senators like Mike Lee (R-Utah) and Ted Cruz (R-Texas) claimed net neutrality would mean billions in new taxes — a claim that was easily debunked.
Before the vote, Craig Aaron, president of the media reform group Free Press told a group of reporters, "The FCC's vote on Thursday may be the most important victory for the public interest in the agency's history." Considering the gravity of the outcome, the decision is welcome news to a growing coalition of Internet users concerned with large corporations' presumed plans to turn the Internet into an unbalanced marketplace.
"Today's vote is among the greatest public interest victories in U.S. history," Barbara van Schewick, Stanford law professor and a leading expert on network neutrality, said in a statement emailed to Mic. "The FCC's strong rules banning blocking, throttling and paid prioritization will help protect innovation, economic growth and democratic discourse in America. These bright-line rules will provide certainty to the market, keep the costs of regulation low and limit regulatory overreach. Most importantly, they ensure that every American — no matter the size of their wallets or the color of their skin — has an equal chance to innovate and reach people online."
In the immediate future, nothing will necessarily change for the average Internet user. However, this vote was less about "what we need to fix" and more "what we need to prevent from happening." As this tweet simply and clearly shows, the consequences of not establishing a free and open Internet could have been dire:
This is a major victory, but it's not likely to be left alone. In the coming months, you can probably expect at least one of the major Internet companies to challenge the ruling in court. However, those legal proceedings could take years and be difficult to argue. For the time being, America's Internet is open and free.