Russell Brand Just Said the One Thing Everyone Needs to Remember About Porn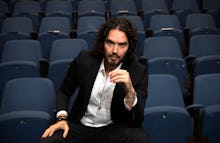 Not since the era of cheesy music and bad lighting has anyone assumed porn is a direct reflection of real-life sex. But when it comes to regularly watching porn now, how much of the sexualization we see onscreen is influencing our offline approach to sexuality?
The debate over how porn affects how we confront sex and our sexual partners in the real world, for better or worse (or not at all), has become nearly as ubiquitous as porn itself. But Russell Brand is here to remind us, from an honest man's perspective: It can have a seriously negative impact.
In collaboration with anti-pornography nonprofit Fight the New Drug, Brand created a video this week that sheds light on his own struggle with porn's influence. Brand says:
"Pornography is not something that I like. It's something that I have not been able to make a long-term commitment to not look at and, it's affected my ability to relate to women, to relate to myself, my own sexuality, my own spirituality."
That connection (and oftentimes disconnect) between enjoyment of porn and the enjoyment of real-life sexual relationships is not something we often hear spoken about so frankly by men. But opening up about the specific power of porn over how we treat one another is crucial for improving our relationships, both with each other and with porn itself.
Porn can alter our perceptions: "Our attitudes toward sex have warped and perverted and have deviated from its true function as an expression of love and means of procreation," Brand says in the video. "Because our acculturation, the way we've designed and expressed it, has become really, really confused. ... Because once that biological drive to procreate is connected to the culture of objectification, it's a very hard equation to break."
"Pornography reduces the spectacle of sex to a kind of extracted physical act," he adds. Taking the other person out of the picture often results in depictions of sex that rely on the objectification or disempowerment of women.
That confusion between actual sex and the "extracted acts" of porn can start at an early age. "Many people start looking at porn at very young ages, 12 to 15, and don't necessarily have much of an idea at those ages about what sex, relationships and intimacy are all about. This can have a broad and far-reaching impact if it's all that young people have to shape what sex looks like or feels like," Debby Herbenick, associate professor at Indiana University and author of The Coregasm Workout, told Mic.
When we can't stop watching: The potential for excessive porn watching to get in the way of healthy behaviors and relationships has been well documented. As Brand says, the loss of "dominion over myself" can be a major stumbling block for real intimacy.
A 2012 study from the Archives of Sexual Behavior found that "5% of women and 13% of men reported some problems, with 2% of women and 5% of men indicating serious problems" with their pornography consumption, which was accompanied by feelings of "dysphoria" and "addiction."
The idea of porn addiction is a hotly contested topic in the fields of neurology and psychology. While the behavior is not listed in the Diagnostic and Statistical Manual of Mental Disorders, some experts consider excessive, harmful porn consumption a compulsion. "For some, however, the behavior could be driven, obsessive, compulsive, and be a way of mitigating anxiety and depression with short-term relief, but in its excess cause more distress causing a viscous cycle," explains Dr. Eli Coleman, a professor and director of the Program in Human Sexuality at the University of Minnesota Medical School, to the American Sexual Health Association.
A different education: It's not only the act of consuming porn itself that can make an impact; what we take away from it afterward makes the big difference. 
So how do we keep our real life sex and our fantasy sex in check? "I think we need more 'porn literacy,' if you will — and better sex and relationship education," says Herbenick. She points to the need for sexually explicit but accurate media, like Cindy Gallop's Make Love Not Porn, that show people how to have sex, especially with people they truly know and care about, as one way to solve the issue.
Most real-world sexual relationships, even if casual, involve some kind of intimacy and connection. For many young people, the only models that exist online come from mainstream porn. Herbenick explains:
"I don't think porn has to go away. I would, however, like to see a wider range of media available and for people to ask themselves questions about how they feel about what they see, how they think the people in the media they're watching are treating each other, how they can create whatever kinds of sexual and romantic connections they want, and how they can look out for and care about other people and themselves."
Luckily, there are people and programs out there ready to address the issue of how sex is taught and represented, but the movement is only just beginning.
That's why Brand's statement is important: Today, 12% of the websites on the entire Internet are porn, while 25% of all search engine requests are porn-related. With that volume of use, it would be an oversight to suggest that pornography doesn't have a really meaningful impact on how we think of sex.
Regular porn consumption can be a great component of a healthy sex life, but it's also wise to examine the other end of the spectrum, when the sexualization of the people on the screen interferes with our personal lives. As Brand points out, when we start comparing our sex lives to the bodies and sexual performances of porn, we lose sight of what porn is: a tool of arousal, not a manual for sex.