7 Important Things That Happened While We Were Arguing About #TheDress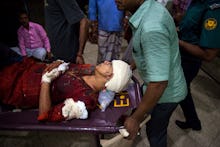 Rajib Dhar/AP
"What colors are this dress?"
It became the defining question of our evening. Whether you were Team #BlackAndBlue or Team #WhiteAndGold (it has something to do with cones in our retinae, apparently), odds are that you were enraged by the refusal of your friends/family/significant others to see the obvious.
#TheDress rapidly became a cultural singularity: Celebrities were debating it, as were TV's talking heads (even on finance channels, typically immune to the caprices of popular web culture). There were takes upon takes about what the dress has to say about the Internet, attention spans and humanity in general.
Whether or not society's collective 12-plus-hour fixation on the color of a (kinda ugly!) dress could have been better spent reading a book or woodworking or watching paint dry, #DressGate did distract a bored and belligerent Internet from some pretty important news stories. For those catching up on non-dress-related news, a recap:
An American atheist blogger was brutally murdered in Bangladesh.
Avijit Roy, a high-profile atheist blogger living in the Bangladeshi capital of Dhaka, was "hacked to death" with machetes after allegedly receiving threats from Islamist extremists, according to the Agence France-Presse. Roy, whose site published writings by liberal and secular intellectuals in the predominantly Muslim country, received received numerous threatening emails and messages from religious Bangladeshis in response to his writings, the AFP reported.
Scientists witnessed direct proof of carbon dioxide's impact on Earth's surface temperature.
For the first time, as reported in Nature, scientists were able to directly observe how the concentration of carbon dioxide in Earth's atmosphere increased the levels of thermal radiation that struck the planet's surface, increasing global temperatures. In a 10-year study, scientists at the Lawrence Berkeley National Laboratory in California found that a rise in carbon dioxide concentration increased by 10% the amount of thermal radiation that entered Earth's atmosphere, further bolstering the argument made by 97% of climate scientists that carbon emissions impact global climate.
The UN called for a plan to halt Islamic State's destruction of priceless archeological treasures.
The head of the United Nations Educational, Scientific and Cultural Organization has called for an emergency meeting of the U.N. Security Council to assist in the creation of a plan to protect Iraq's cultural history from annihilation. "This attack is far more than a cultural tragedy," UNESCO chief Irina Bokova said in a statement to the press. "This is also a security issue as it fuels sectarianism, violent extremism and conflict in Iraq." The announcement comes after video was released of Islamic State militants using sledgehammers, jackhammers and the force of gravity to loot and destroy treasures dating back to the 9th century BCE.
FIFA stripped Qatar of a major soccer tournament before the World Cup.
Qatar, the Arab Gulf state that was controversially awarded the 2022 World Cup despite its long record of human rights abuses, has been stripped of an important "dress rehearsal" tournament. Following a FIFA task force recommendation that the Confederations Cup, considered a crucial indicator of a World Cup's success, be moved because of the emirate's extreme summer temperatures, FIFA secretary general Jerome Valcke announced that the tournament will be played "in an Asian country." Qatar's winning bid for the World Cup has been scrutinized since it was first announced in 2013, with allegations of bribery of FIFA officials, conflicts with Premier League season schedules and predictions that stadium construction will result in more than the deaths of more than 4,000 migrant workers.
A member of the House committee on science announced that his children are unvaccinated.
Rep. Barry Loudermilk (R-Ga.) a member of the House Committee on Science, Space and Technology announced to a crowd that he didn't vaccinate most of his children. "I believe it's the parents' decision whether to immunize or not," he said, in response to a question from a woman who asked him to look into allegations that the Centers for Disease Control and Prevention had covered up evidence that childhood vaccinations can cause autism. "Most of our children, we didn't immunize. They're healthy."
China banned the import of elephant ivory for the first time.
China has imposed a one-year ban on the importation of ivory in response to growing international criticism of the nation's ivory trade, a demand that has financed increasingly brutal poaching in Africa and presents an existential threat to the existence of elephants in the wild. Time has reported that more than 70% of Chinese don't know that ivory comes from elephants, the wild population of which has been decimated by illegal poaching.
A man who wants to be president came out in (qualified) support of legal marijuana.
Sen. Ted Cruz (R-Tex.), who is slowly mounting a potential campaign for the White House in 2016, said that states like Colorado should be able to legalize the sale and use of marijuana if they want to. "I actually think this is a great embodiment of what Supreme Court Justice Louis Brandeis called the laboratories of democracy," Cruz told Fox News talking head Sean Hannity at the Conservative Political Action Conference. "If the citizens of Colorado decide they want to go down that road, that's their prerogative. I don't agree with it, but that's their right."