The Definitive Ranking of Every Empire Song (So Far)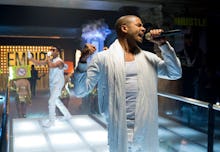 The hit TV show Empire is breaking records left and right, from streaming to viewership to ratings. The show follows the saga of fictional hip-hop record label Empire and the family who runs it.
But the best story to come out of Empire is its original music, produced by none other than real-life hip-hop mogul Timbaland. The TV show's creator and executive producer Lee Daniels, of The Butler and Precious fame, tapped Timbaland to be music director at his kids' urging. 
"I asked my kids to tell me who is the hottest hip-hop producer out right now," Daniels told Fox. "And they said, 'Dad, Timbaland.'" 
It's a good thing they did. Timbaland oversees the music production, while his protege Jim Beanz writes and records demos of each of the tracks. According to the Wall Street Journal, Beanz will often write and record songs on a Friday, fly to a different city to record on Saturday, and submit the track on Sunday.
"You can't really prepare for this stuff," Beanz told the Wall Street Journal. "You're in the deep end every time." 
Many of the songs are great, but just like the real-life music industry, some of them are flops. Here are all the songs the show has debuted so far, ranked from worst to best:
18. "Adios" by Tiana
Tiana is shooting the video for "Adios" the first time we meet her on the show. Tiana's pre-pubescent voice on "Adios" is hands-down the most annoying part of Empire.  
17. "Walk Out On Me" by Elle Dallas 
Elle Dallas, played by Courtney Love, is a washed up singer trying to get back in the biz (a little close to reality). This song was in a tight race for the worst spot. Dallas basically slurs her way through "Walk Out On Me." You get contact drunk just by listening to it. 
16. "Bad Girl" by Tiana
Here's another Tiana original in which she sings about bad boys with big bank accounts. And that voice: It's like getting slammed in the face with a bag of rocks.
15. "Keep It Movin'" by Hakeem and Tiana
The only thing saving this Tiana track from the worst spot is Hakeem; the two teamed up to perform this song on live TV for an audience of tweens. Just because Tiana keeps singing "I'm so dangerous" over and over does not make it so (especially at the Kids' Choice Awards). 
14. "Can't Truss 'Em" by Hakeem
Hakeem just found his girl, Tiana, in bed with another woman; plus, he's still not feeling Cookie. The beat is pretty tight on this track, but the rhymes are a stretch: "Fellas if you clever / Trust a lady never." You missed the mark on this one, Timbaland. 
13. "Up All Night" by Jamal
This was the song that Puma (Cuba Gooding Jr.) wrote for Cookie 20 years ago then sent along to Jamal. One of the best parts of Jamal's voice is that tight vibrato, but he goes way too far with it on "Up All Night." If he sang with less flourish it would be a better song, but as is it's just grating. 
12. "Money for Nothing" by Jamal and Hakeem
"Money for Nothing," a cover of Dire Straits' MTV anthem, is Empire's attempt at rock-rap that turns into more of a weird genre collision. Both Hakeem and Jamal give great performances, but the concept behind the song doesn't work. 
11. "Take Me to the River" by Elle Dallas
This song doesn't completely suck. It's a cover of Al Green, though the song is probably best known for its Talking Heads cover. Elle's voice nearly destroys "Take Me to the River," and the new composition makes it sound like something Sheryl Crow would record. But the bones of the song are great and manage to keep it alive. 
10. "Live in the Moment" by Hakeem and Jamal
Hakeem and Jamal bust out this freestyle in front of a grand piano on their damn yacht. The setting has potential, and the song has a fine melody. Still, it verges on the boring — it sounds a bit like something Bruno Mars might bust out on his yacht.
9. "Tell the Truth" by Jamal
Jamal is despondent after Hakeem throws shade at President Barack Obama in public and this song is his response. Jamal's voice is amazing on this track.
8. "Right There" by Hakeem
Lucius wrote this song for Hakeem to perform, but the track felt dated so Hakeem turned to Jamal for help. What came out is kind of boring in terms of flow, though the rhymes totally capture Hakeem's character: "Sue me / For being young and reckless / Wild and imperfectious / Doin' 100-100 on a stripper named Vanessa."
7. "What the DJ Spins" by Lucius Lyon
This is the only song we've heard so far from Lucius, and it's not hard to believe that it would've been a hit in 2002 as it was in the show. "What the DJ Spins" is another piano-led scorcher, and Terrence Howard totally sells it. 
6. "Drip Drop" by Hakeem
"Drip Drop" is ridiculous. Hakeem and the cast play it off like a serious track, but it's just a campy interpretation of the worst and weirdest trends in hip-hop: the clap chorus, gross sexuality and of course the music video's waterfall backdrop. "Drip Drop" is amazing and awful at the same time, and that's what makes it an Empire classic.   
5. "What Is Love" by Veronika Bozeman
This song comes in the very first scene of the series, and sadly we haven't run across Veronica and her beautiful voice again since. "What Is Love" shows that Lucius is a great producer and pushes his artists in the studio; goosebumps ensue. 
4. "Good Enough" by Jamal
We first hear Jamal's R&B chops when he sings "Good Enough" at a bar. The song is a slow burner and a seriously emotional performance from Jamal. His voice takes center stage, and the beat manages to be simple without being boring. 
3. "No Apologies" by Hakeem and Jamal
Hakeem performs "No Apologies" at Leviticus for his public debut. After his supporting act drops out at the last minute, Hakeem asks Jamal to join him onstage, and the brothers blow away the crowd (and surprise Lucius, which is always fun). Hakeem channels Kanye West on this track, and it absolutely works. 
2. "You're So Beautiful" by Jamal
This is Jamal's coming out song. Lucius' face is totally priceless when he hears his son change the lyrics of "You're So Beautiful" from "make a man love a woman" to "make a man love a man." The song is just a fun, feel-good, bounce-along jam, and Jamal's vocals, as usual, shine. Plus, we get to hear him rap, and he's pretty damn good. 
1. "Keep Your Money" by Jamal
Jamal takes the cake — no surprise there. He's inspired to write "Keep Your Money" after his crazy homophobic dad confronts his decision to come out. Jamal tells Lucius to keep his penthouse loft, then Jamal moves to Bushwick and voila! The sound of the streets makes this great track come alive.