Iggy Azalea's Self-Directed New Music Video Is Here — and It's Definitely Not 'Fancy'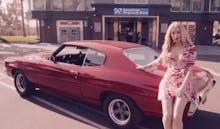 This morning, controversial hip-hop artist Iggy Azalea released the music video for her new single, "Trouble." The video marks Azalea's directorial debut; she and her stylist, Alejandra Hernandez, directed the video, and Azalea wrote the concept. As far as we can tell, the concept is to make Azalea look cool and vintage and not at all like she's just starring in her own film class final project.
The cheesy "Trouble" is presumably set in the '70s, based on Azalea's Farrah Fawcett 'do and the vintage cars she's driving. The story follows Azalea as her man is arrested for robbing a bank, and in a twist that no one saw coming, she helps him break out of jail. Jennifer Hudson plays the sassy cop who arrests Azalea after she rams her red car into a fire hydrant (also red). 
"Trouble" is from Azalea's latest album, Reclassified, which is a re-release of her debut album, The New Classic. The new album, released just seven months after The New Classic, features five new songs and multiple collaborations, including "Trouble," featuring Oscar-winner Hudson.
"Trouble" isn't the first time that Azalea and Hudson have worked together; Azalea showed up on Hudson's song, "He Ain't Goin' Nowhere," off her September release, JHUD. 
In an interview with MTV, Hudson said of "Trouble," "It's definitely that type of video that you could see a Part 2 coming about." Please no.