Kanye Had the Most Humble Day of His Life Yesterday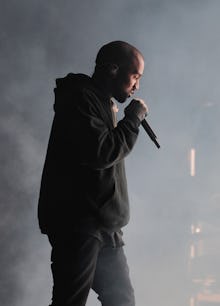 Kanye was all over the news Thursday, for the millionth time in his career. But the headlines he made were drastically different from those we usually see about the Chicago rapper.
Instead of proclaiming himself the next Walt Disney or Steve Jobs, or checking the ignorance of political or business leaders, he was strangely ... humble. He broke down during an interview with Zane Lowe, named Drake (who's not on his label) the hottest rapper in the game and apologized to several of his rivals. We may have a completely new Yeezus on our hands.
It started on Zane Lowe. Lowe and West have a hilariously checkered history. Their most infamous interaction came in September 2013 and contained the "strongest possible language," according to the disclaimer at the start. In that interview, Kanye was almost raving, calling himself "the number one rock star on the planet," arguing vehemently to no one in particular that he invented "leather jogging pants."
This time around, Kanye was far more composed. He apologized that his Adidas clothing line has such an expensive price tag. "Nothing should be exclusive," he said. It's a drastically different tone from 2013, when he bragged to Lowe about selling out a line of plain white "hip-hop" T-shirts for $120 a piece. 
He offered up praise to Drake. West also gave a nod to some of the rappers killing it right now, rightfully calling Drake "the hottest rapper in the game." And, 26 minutes in, he broke into tears while discussing the death of his friend, fashion design professor Louise Wilson. They had to stop the interview. 
After taking some time to compose himself, West told Lowe, "That's never happened to me in an interview before."
And then Beck. West continued his outpouring of gratitude and apology later on Twitter. At around 6 p.m. Thursday, West apologized to Beck for nearly interrupting him at the Grammys in January and later insisting, "Beck needs to respect artistry. He should have given his award to Beyoncé."
When Kanye first slighted him, Beck responded then with humility and class, saying he was "so excited" when he saw Kanye coming up onto the stage.
Kanye also took the opportunity to apologize to Bruno Mars, whom he trash-talked at a Yeezus tour stop in 2013.
He also extended an offer for a collaboration in the near future.
Who is this man, and what happened to Yeezus? Thursday provided a glimpse of a totally different Kanye than the media is used to seeing. Whether this is a momentary fluke or a sign of a brand new man is hard to say. But celebrities close to the Chi-town rapper have commented on it before. Ellen DeGeneres noted it during a January interview, when Kanye premiered a snippet of his "Only One" video. "I do see that change in you. You are calmer, I think. You don't seem like, angry," Ellen remarked, "Now your emotions seem grounded in a way."
As Kanye settles into his elder statesman role in hip-hop, this new groundedness and humility may help him refine his legacy. This Yeezy season may be mild and temperate in a way few could have anticipated.