There's a Surprising Benefit to Watching Porn We Rarely Talk About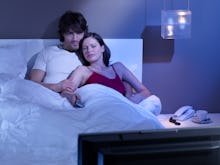 Incognito browsers exist for a reason. For so many people, stumbling upon a partner's porn history can be troubling, even traumatic. 
But getting pissed off at someone's porn-viewing habits not only risks pushing them away or making them resentful — it's also missing an opportunity, as many couples know, to actually make the partnership better.
Could viewing pornography with your partner actually be good for your relationship? According to therapists, real couples and even science, the answer is an arousing yes. Here's why watching porn can be a positive joint experience.
The best sex happens when partners are on same page.
Watching porn together helps couples get honest and open about their preferences — and that's when good sex happens. If both people are comfortable with something, that can be a great revelation.
"Pornography becomes harmful when one of the individuals in the relationship is not comfortable with pornography," Sara Moore, therapist at the Institute for Sexual Wellness, told Mic, just as sex itself becomes harmful when one partner engages in something the other person isn't comfortable with.
But watching porn together can address that disconnect by prompting couples to discuss what appeals to them. "It's the same way you choose the type of sex you're looking for that night," said David, a 32-year-old from Brooklyn who watches porn with his partner, Taylor. "If your communication is open, you feel comfortable to just say, 'Hey, I want it rough.'"
Porn helps couples discover and share their kinks safely.
"Porn can really help you explore what your likes and dislikes are," New York City psychiatrist and sex therapist Dr. Madeleine Castellanos told Mic. "You can really discover what resonates with you sexually." That might include kinks that someone's into but hasn't admitted yet, or new things that might help liven things up in the bedroom — and livening things up is key to avoid boredom and stagnation in long-term relationships, as social scientists are increasingly exploring.
But we may be uncomfortable talking about certain aspects of sex and sharing fantasies with our partners, and viewing media can be a useful way to broach the subject. It can also be a tool to engage in fantasies in a safe manner, such as group sex — turning on a video comes with fewer real-life emotional consequences and health risks than an actual group experience.
"What I like is that she seems to get so focused on it that it's almost as if the actor is having sex with her instead of me," David told Mic. 
In a non-monogamous relationship, viewing porn together allows David and Taylor to act upon voyeuristic fantasies regarding their separate sex lives. "That's super hot," David said. "It's like being a voyeur of her own intense sexual energy. We sleep with other people, so when we watch porn, it's an enhanced state of sexuality that's sort of on the cusp of 'watching her get fucked' in terms of her energy, but being there at the same time. I like it."
Watching porn together can create more relationship intimacy.
While watching porn can prompt jealousy in some partners, it can bring others closer together. "Everybody has to come up with what their own definition of cheating is," said Castellanos. "Some people watch porn to escape. It depends how it's being used. Is it being used to inject eroticism to the relationship?" 
If it is, as with couples like David and Taylor, porn becomes a shared activity rather than an escape, and it allows them to become a part of each other's fantasies rather than a divisive or selfish force. "Find something that you like and watch it together. Whisper in each other's ears," Castellanos suggested. "'Hey, remember what we saw...' 'I really liked this, I saw you get so turned on.' That way it keeps your brain fresh on the erotic elements on it without desensitizing it."
In fact, a 2014 study in the Journal of Sex & Marital Therapy found that couples who were honest with each other about their porn use generally had healthier relationships. "Honesty regarding pornography use significantly predicted relationship dissatisfaction," the researchers wrote. There's no better way to be honest about your porn habits than doing it together.
Having your partner by your side is a reminder that porn doesn't simply translate to real-life sex.
Porn is entertainment created by paid professionals on a film set, something we all technically know. But our online viewing habits can, unfortunately, have negative ramifications for our actual sex lives. For one, pornography can create unrealistic expectations, particularly for women. 
"It's really all about how you use it," Castellanos told Mic. "You have to keep in mind that porn can be an exaggeration. That's what it's meant to be: very dramatic and not very complicated. It's a way of getting a taste of what things might be like, but that shouldn't be your reference point. Porn should be used as a little appetizer, and then you should go do some real exploration, rather than using it as your encyclopedia, because it's not a very good one."
In an era of modern technology that's brought us endless varieties of online porn of every niche taste (including the ugly category of "revenge porn"), it can only be positive for couples to take pornography at face value and experience its positive benefit together: creating the kind of sex in real life that's better than anything you could ever see onscreen.