John Legend and Common's Oscar Performance Had a Powerful Hidden Meaning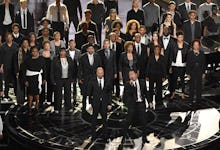 On Sunday at the Oscars, John Legend and Common's performance of their award-winning duet "Glory" stunned the audience with its harrowing power. It won best original song, and their rendition inspired tears and moving headlines across the Internet. While most of these articles praised the "brutal, brilliant strength" of the song and the performance's "powerful imagery," most of them missed a vital detail that Aliza Worthington at the Broad Side caught.
In Legend and Common's interracial backing choir, the majority of the apparently white members stay visibly silent throughout the performance. For the most part, they stand beside the black members and march alongside them — but they let black voices take the leading role.
The silent members show up clearly around the 3:20 mark:
And throughout the performance:
This subtle piece of staging is perhaps the most important element of the performance's social critique. Though black singers are sometimes silent, and at least one white chorus member can be seen singing, the choreography is clear. It centers on the voices that really need to be heard — voices that, nearly 50 years after Martin Luther King Jr.'s epic march from Montgomery, Alabama, to Selma, are still being silenced.
"We know that the Voting Rights Act that they fought for 50 years ago is being compromised in this country today," Legend said in his acceptance speech Sunday night. "There are more black men under correctional control today than were under slavery in 1850. When people are marching with our song, we want to tell you that we are with you, we see you, we love you, and march on. God bless you."
Worthington also underscored the importance of keeping black voices at the fore of the current civil rights conversation, while discussing the performance's choreography in the Broad Side. "Too many people of color are crying out for justice and too many white people are just talking right over them," she writes. "So, considering this context, it makes perfect sense that the white chorus members didn't sing. The optics of them singing about the glory being theirs wouldn't sit well. It shouldn't sit well."
We cannot let ourselves forget whose freedoms are at stake in the current civil rights conversation. All lives matter, but all lives are not similarly at risk. Black male teens are 21 times more likely to be killed by police in this country compared to white males teens, and black men are six times more likely to be incarcerated than white men. Black voices need to be heard. The subtle way that Legend and Common highlighted that only deepens the meaning of their powerful song and performance.
Correction: Feb 28, 2015
An earlier version of this article did not make it sufficiently clear that the Broad Side noticed the choreography in question before Reddit did.