Tens of Thousands Gather in Protest After Putin Critic Was Mysteriously Murdered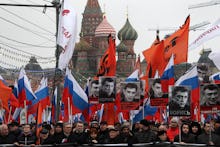 After former deputy prime minister and opposition leader Boris Nemtsov was mysteriously shot to death in the streets of Moscow outside the Kremlin last week, thousands of Russians have taken to the streets in protests to declare that they are not afraid and will not be silenced.
Reuters reports that tens of thousands of Russians chanting "I am not afraid" and "Russia without Putin" marched through the city's central district, as authorities suggested that Nemtsov's death was a ploy by the opposition to create a martyr or an effort by radical Islamists to sow chaos.
"If we can stop the campaign of hate that's being directed at the opposition, then we have a chance to change Russia. If not, then we face the prospect of mass civil conflict," opposition leader Gennady Gudkov told Reuters. "The authorities are corrupt and don't allow any threats to them to emerge. Boris was uncomfortable for them."
"The fact that all this could happen in Russia in the 21st century, near the Kremlin walls, is shocking a lot of people, even those who maybe didn't like or respect Boris," former Prime Minister Mikhail Kasyanov told Bloomberg News. "Today's demonstrators aren't only our activists, but first of all, of course, people who care what is happening in the country."
Here are some photos of the massive protests sweeping Moscow:
They were joined by protesters in St. Petersburg:
People also congregated outside the Russian embassy in Vilnius, Lithuania:
The BBC reported that Nemtsov was scheduled to participate in an anti-war rally on Sunday opposing Russia's ongoing intervention in eastern Ukraine, while on Feb. 10, he publicly commented on the possibility that Russian President Vladmir Putin would kill him. The BBC added that other Putin opponents who have reached untimely demises include politician Sergey Yushenkov, journalists Yuri Shchekochikhin, Paul Klebnikov and Anna Politkovskaya, fugitive spy Alexander Litvinenko and former Kremlin insider Boris Berezovksy.
"Essentially it is an act of terror. It is a political murder aimed at frightening the population, or the part of the population that supported Nemtsov and did not agree with the government," opposition leader Ilya Yashin told the Associated Press. "I hope we won't get scared, that we will continue what Boris was doing."