The City of Cleveland Is Officially Blaming 12-Year-Old Tamir Rice for His Own Death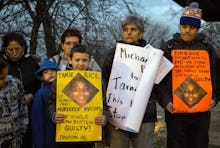 On Friday, the city of Cleveland released court documents revealing how it would be defending itself against a massive federal lawsuit filed by the family of Tamir Rice, the 12-year-old black child who was shot to death within two seconds after Cleveland police pulled up to investigate a report of an armed person in the area on Nov. 22, 2014.
CBS reports that Cleveland has offered 20 defenses of its officers' conduct, including that Rice — who was holding a BB gun at the time he was killed by rookie officer Timothy Loehmann — was to blame for his own death.
The Rice family's "injuries, losses and damages ... were directly and proximately caused by the acts of the plaintiff's decedent (Rice), not this defendant," wrote the city. It added that Rice failed to "exercise due care to avoid injury," and additionally blamed Rice's family and other unspecified "individuals or entities" other than the officers involved for his death. According to Cleveland.com, the city also said that they could not comment in full because of the ongoing Cuyahoga County Sheriff's Office investigation into Rice's death.
Rice family attorney Walter Madison told Cleveland.com that "there's merit in our complaint," adding that "I do believe that a 12-year-old child died unnecessarily at the hands of Cleveland police officers and I do believe that certain officers shouldn't have been entitled to wear the uniform."
The background: When Rice was shot twice in the stomach by Loehmann on Nov. 22, he was holding this toy BB gun:
Rice attracted police attention after a resident in the area saw him playing with the BB gun at the park at Cudell Recreation Center. The concerned 911 caller had mentioned that Rice's firearm was "probably fake," and that the person holding it was "probably a juvenile," but this information was apparently never relayed to Loehmann or his partner Frank Garmback. Surveillance video captured the entire incident on video, in which the car pulls up and Loehmann fires his weapon almost immediately.
Another video showed Loehmann and Garmbeck violently subduing Rice's teenaged sister as she ran toward him, forcing her to the ground and handcuffing her.
Troubling details: The lawsuit alleges that "the officers then refused to provide any medical attention to Tamir for at least four minutes as he lay on the ground alive and bleeding. The Defendant Officers had ample opportunity to safely initiate their encounter from a safe distance but instead stopped their cruiser immediately next to young Tamir." It adds that Loehmann and Garmback "acted unreasonably, negligently, recklessly, wantonly, willfully, knowingly, intentionally and with deliberate indifference to the safety and rights of Tamir Rice when they confronted him in a terrifying manner, used deadly force on him and failed to secure timely medical assistance on Nov. 22, 2014."
The city, for its part, seems to be arguing that Rice forfeited his own life by not immediately reacting to the officers' demands that he put down the toy and that Cleveland police "at all times acted reasonable and in good faith."
These aren't good times for the city's police, who have attracted federal attention for an alleged regime of brutality and excessive force. A report by the Department of Justice released in December examined 600 use-of-force incidents from 2010 to 2013, concluding that the Cleveland Police Department had "systemic deficiencies" in their policies on when and how officers can use force against suspects. 
According to Cleveland.com, it painted a "woeful portrait of rogue officers pulling their guns and firing at suspects without justifiable cause, of beating defenseless suspects already in handcuffs and of covering up their actions by failing to write accurate police reports — if they write any reports at all." 
While the reports of police brutality have been noted, the fact that the city of Cleveland is trying to fault Rice for what seemed like a serious and fatal mistake by its officers paints a picture of a city in denial of its police brutality problems. 
The Cuyahoga County Sheriff's Department did not immediately respond to a request for comment from Mic.