Carly Rae Jepsen Just Released a Follow-Up to "Call Me Maybe" — And It's Even More Infectious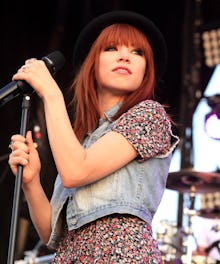 You might not believe it, but it's been almost three and a half years since pop singer-songwriter Carly Rae Jepsen burst onto the scene with her hit single "Call Me Maybe." Now, after all this waiting, Jepsen has finally released a new single that's just as poppy and could become just as popular.
Though "Call Me Maybe" was such a huge sensation, the world didn't hear a lot more from the Canadian pop singer, at least not at "Call Me Maybe" levels. But that wasn't just a coincidence. Jepsen and her producing team were definitely swinging for the fences with this one. 
"I told [Jepsen] that she couldn't come out with anything unless it was on the level of 'Call Me Maybe,'" Jepsen's producer, Scooter Braun, told Billboard in a recent interview. "And now we have a new one that is on that level."
Though the lyrics are almost hyperbolically sweet and poppy — the main hook is "I really really really really really really like you" — it all kind of works. "I Really Like You" doesn't feel as instantly catchy as "Call Me Maybe," but it hits all the right notes, and considering how explicit some songs' lyrics are in today's music, it's an interesting change of pace to hear a pop star singing about "liking" someone. 
Given the song's supremely poppy feel, releasing it in the winter is a bit of an odd choice, but expect to hear "I Really Like You" on everyone's playlist this summer.
Plus there's going to be a music video with a special appearance from Tom Hanks, so that's going to be sweet.
h/t Vulture