Shocking Viral Video Captures LAPD Fatally Shooting a Homeless Man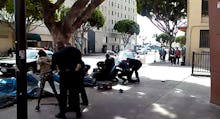 A video has been posted to Facebook depicting officers from the Los Angeles Police Department shooting and killing a homeless man around 11:30 a.m. Sunday in a downtown LA area known as Skid Row.
The video was first posted publicly Sunday evening and quickly went viral, amassing almost 5 million views in a few hours. Warning: violence and language.
The video appears to show a large group of police officers involved in an argument, which quickly turns violent, with a homeless man sitting on the side of a street covered with tents. According to the Los Angeles Times, witnesses at the scene said the man was known as "Africa." 
Within the first few seconds of the video, the officers grab and throw Africa to the ground before what sounds like a taser gun is used to subdue him. As struggle continued, one officer can be heard yelling, "He's going for the gun." Moments later, five gunshots are fired. 
CBS News reports that the man didn't die on the scene, but was taken to a local hospital by paramedics, where, according to theTimes, he was declared dead not long after.
As the video shows, crowds gathered around the scene within moments as more police arrived and quickly roped off the sidewalk with police tape.
As the sidewalk's crowd grew, a number of people behind and next to the cameraman can be heard getting increasingly agitated with the police, shouting things like, "Y'all guys killed that man," and "There's nine motherfucking police out there ... ain't nobody got no fucking guns."
Cmdr. Andrew Smith told the Times that officers with the LAPD's Central Division and Safer Cities Initiative arrived at the location initially to investigate a possible robbery. According to Smith, when officers approached Africa, he "began fighting and physically resisting the officers," before they used a taser that was "ineffective," which led to the gunfire.
"At some point in there, a struggle over one of the officer's weapons occurred," Smith told the Times. "At that point an officer-involved shooting happened."
Aside from the initial Facebook video, the LAPD is investigating whether any witnesses recorded the incident. 
"Of course we're aware of the video," Smith told the Times. "Any video that shows someone losing their life in an altercation with police is going to be disturbing. It's disturbing for police officers to watch."
Additionally, at least one officer involved in the incident was wearing a body camera, the footage from which Smith said will be carefully examined. LAPD Sgt. Barry Montgomery also pointed out to KTLA News that at least two surveillance cameras mounted on the buildings by the sidewalk should also have captured the incident and will be examined. An investigation will be held to determine whether the officers on the scene used excessive force.