Jimmy Kimmel Gets Doctors to Tell Anti-Vaxxers What They Should Already Know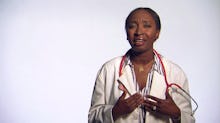 There's no doubt the anti-vaccination movement has impacted — and more than that, harmed — America. Truth and science aren't on anti-vaxxers' side. The movement has become a target for late night hosts, including, as of last week, Jimmy Kimmel.
Who should you be listening to, Kimmel asked of his audience: Facebook posts from friends? Or actual doctors? The answer should be clear. Luckily, Kimmel and his team got a team of doctors together (on their days off, no less), all to tell the audience "to do something we've been doing for a century."
These doctors are furious. 
In Pakistan, people not vaccinating their children for polio are getting arrested. So why is this an issue again in America? That's the frustrating question these doctors — and, likely, doctors around the country — are asking themselves.
But seriously, how much clearer can you get?