50 Years From Now, Here Are the Trailblazing Women We'll Be Celebrating as Pioneers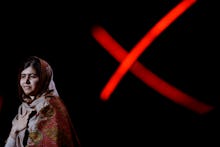 It's crucial to pay our respects to the women who came before us, and to acknowledge the many obstacles intrepid individuals surmounted in their fight for equality. This month — Women's History Month — is devoted to doing just that. 
Every March, we're often reminded of the efforts of suffragettes like Elizabeth Cady Stanton and Susan B. Anthony, social justice warriors like Eleanor Roosevelt and Rosa Parks as well as trailblazers like Amelia Earhart and Billie Jean King.
But it's also vital to acknowledge and celebrate the work women are doing right now. Here are seven women who refuse to complacently accept ongoing sexism and are fighting for justice every day — and who we should certainly be celebrating in Women's History Months to come.
Malala Yousafzai
It started with the seemingly simple wish of one Pakistani schoolgirl: Yousafzai dreamed of a future in which, despite living under Taliban rule, she and her female peers could pursue an education. This goal, and the diary about her attempts to pursue it, written by Yousafzai anonymously for the BBC, resulted in the young activist being shot in the head by militants in 2013. 
Since surviving this attack, she has become an international champion for women's education and was even awarded the 2014 Nobel Peace Prize for her efforts, the youngest ever to receive the honor. "I speak not for myself but for those without voice," Yousafzai told the United Nations on her 16th birthday. "Their right to live in peace, their right to be treated with dignity, their right to equality of opportunity, their right to be educated."
Leymah Gbowee
Liberian activist Gbowee was sick of enduring the civil war that had been ravaging her country since 1999. Using her education in peace studies and in collaboration with the organization Women in Peacebuilding Network, Gbowee led a mass women's movement of peaceful protests and strikes. The group also enacted a now-infamous sex strike, in which many Liberian women refused to sleep with their partners until peace was achieved. 
The movement culminated in Gbowee and her comrades daringly holding the delegates responsible for peace talks hostage until they reached an agreement. Harnessing the power of women banning together and the tactic of peace, Gbowee successfully helped bring the Second Liberian Civil War to an end in 2003. "It's time for women to stop being politely angry," Gbowee once said. Thankfully, Gbowee continues to lead by example and loudly continues to demand justice, through writing, speaking and her work with the Gbowee Peace Foundation.
Ai-Jen Poo 
"We owe it to ourselves to support people's living," Poo, co-founder of Domestic Workers United and executive director of the National Domestic Workers Alliance, recently told Truthout. She may have been speaking about the topic of her book — The Age of Dignity: Preparing for the Elder Boom in a Changing America — but it's a sentiment at the heart of her work as a labor organizer as well. 
Poo's work, which includes national and international employee-led campaigns for better working conditions, is "transforming the landscape of working conditions and labor standards for domestic or private-household workers," according to the MacArthur Foundation, which awarded Poo a "Genius Grant" in 2014. She also notably led a legislative campaign for New York to enact the Domestic Workers' Bill of Rights in 2010, and has continued working to raise awareness about it. Her fight for the fair treatment and respect of a normally isolated and mistreated group is not only commendable but one that will certainly prove to be on the right side of history. 
Zainab Salbi
Salbi founded Women for Women International, an organization that empowers female survivors of conflicts and wars all over the world via peer-driven support networks and economic self-sufficiency, at just 23 years old, only a few years after coming to America with $400 to her name. Salbi, who is from Iraq, was inspired by her own experience surviving the Iran-Iraq war. 
Women for Women has distributed more than $114 million in aid and loans to women in eight conflict-affected countries throughout the world, according to its website. Though Salbi has faced various obstacles to doing her work, such as community leaders resisting her efforts to help survivors, she has persisted and helped countless women overcome their circumstances. 
"The world treats women so unfairly," Salbi told the FBomb* in 2010. "The fact that they are narrowed to simply being victims — I see women in their amazing beauty and resilience."
Madeleine Albright
Albright had already accomplished a great deal before becoming the first woman to represent the U.S. as Secretary of State: She'd earned her master's and Ph.D. in Russian, taught at Georgetown University and served as foreign policy adviser for the Democratic Party and as U.S. ambassador to the United Nations. 
While this would be plenty to solidify Albright's legacy, she also made a major impact as Secretary of State. She expanded and modernized NATO, including implementing a successful campaign to end ethnic cleansing in Kosovo, promoted peace in the Balkans and reduced nuclear dangers from Russia. Albright's incredible work earned her the Presidential Medal of Freedom in 2012, as well as many other honors. But she isn't content to covet her success. 
"There is a special place in hell for women who don't help other women," she once said, according to the Guardian.
Tawakkol Karman
After witnessing civil war in her home country of Yemen, activist and journalist Karman was not content to sit silently and watch human rights abuses unfold before her eyes. She founded the organization Women Journalists Without Chains in 2005 in order to mobilize change via the power of women's voices and the media and, in following years, organize weekly protests in Yemen's capital. 
Karman, who according to a profile in the Guardian, has been threatened and imprisoned for her work, is known as "the iron woman." In 2011, she became the youngest woman and first Arab woman to win the Nobel Peace prize for her courageous efforts. But she acknowledges that she couldn't accomplish what she has alone, and asserts the vital role of solidarity in achieving peace. 
"Women should stop being or feeling that they are part of the problem and become part of the solution," she told the Yemen Times in 2010. "We have been marginalized for a long time, and now is the time for women to stand up and become active without needing to ask for permission or acceptance."
Cecile Richards
Fighting for women's rights is arguably embedded in Richards' genes: Her mother, Ann Richards, was a notable feminist warrior herself, as the the feisty, beloved 45th governor of Texas. As the president of the Planned Parenthood Federation of America, the younger Richards has certainly made a name for herself as well, fearlessly leading one of the most controversial, though essential, organizations for women. 
Richards became president of the Planned Parenthood in 2006 and has been fighting for women's basic health and reproductive rights ever since. According to its website, Planned Parenthood provides health care services to 2.7 million patients and sex education to more than 1 million people every year, despite near-constant attempts by lawmakers to curb these services. Richards' intrepid leadership is inspiring — and a quality she encourages in others. As she told Barnard College students in 2014, "Life as an activist, troublemaker, agitator, is a tremendous option and one I highly recommend."
*Disclosure: The author of this piece is the editor of the FBomb.