Meet the Most Impressive Woman on Forbes' Female Billionaire List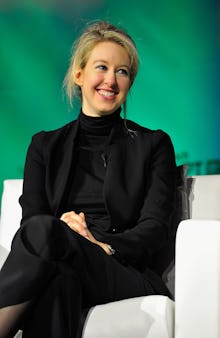 Elizabeth Holmes may be only 31 years old, but she is already changing the world. On Monday, she became the youngest self-made billionaire to make Forbes 2015 Female Billionaire List. As CEO of Theranos, a company that has developed a quicker, more convenient and less expensive blood testing technology, her net worth is $4.5 billion. 
Women are often celebrated more for their self-sacrifice or notable humanitarian work than their strictly professional achievements. By creating affordable medical solutions with the potential to save lives, Holmes has accomplished both.
The "health-wealth" gap in America is no secret. Americans of a lower socioeconomic status are more prone to health issues like high blood pressure, obesity and heart disease, yet are also the least likely to be able to afford treatment. 
Holmes' company seeks to help democratize healthcare. Her modus operandi is through revolutionizing blood testing. Theranos blood tests are not only technologically superior to traditional blood tests — they are painless and can detect multiple ailments using about one one-hundredth to one one-thousandth the amount of blood normally required, according to Fortune — but they are, most notably, far more affordable. 
While a typical cholesterol lab test can cost upwards of $50, according to the New Yorker, a Theranos cholesterol lab test administered at Walgreens costs a mere $2.99. Additionally, rather than just being administered in hospitals, the tests are being integrated into pharmacies, which are more accessible to many and results are delivered more rapidly than traditional methods. 
Holmes is an inspiration for all young women. Beyond her brilliant work, Holmes is living proof that you can achieve power and success by doing good for others. Free-spirited by nature and ambitious, she founded Theranos at 19, and dropped out of Stanford to pursue building the company with money she had saved for college. When questioned about whether or not dropping out was a wise choice, Fortune reports that Holmes told one professor, "I want to create a whole new technology, and one that is aimed at helping humanity at all levels, regardless of geography or ethnicity or age or gender." 
Experts and professionals in the field agree that this is exactly what Holmes has done. Mark Laret, the CEO of UCSF Medical Center, has called Theranos "the true transformation of health care," and Dr. Delos M. Cosgrove, CEO and president of the Cleveland Clinic, called the company a "breakthrough" and representative of a "major change in how we deliver health care." 
But Holmes' story is about more than women. It's also about more than health care. Billionaires in the U.S. are commonly considered greedy, and often blamed for building their fortune at the expense of others. Holmes offers an alternative narrative in which financial power and doing good don't have to be mutually exclusive.