Hozier's New Video Shows He's Way More Than "Take Me to Church"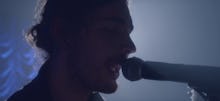 Fresh off his Grammy nomination for "Take Me to Church," Hozier has released a new single, "Someone New." The song is the latest single off his eponymous debut LP, which the Irish singer-songwriter released in September.
"Take Me to Church" is in its 28th week on the Billboard 100, this week at No. 5. Based on its success and the acclaim Hozier has received for his debut album, "Someone New" will likely show up on the same chart next week. When it does, it'll only prove that this artist is so much more than his surprise smash success.
The music video features Game of Thrones star Natalie Dormer (aka Margaery Tyrell). Her fiancé, Irish director Anthony Byrne, took the wheel on "Someone New" for the video concept, which Hozier's brother, Jon Hozier Byrne (no relation to Anthony), co-wrote. 
"Someone New" is another stunner from the Irish newcomer. The video is less explosive than "Take Me to Church," in which two gay men encounter violent homophobia. But "Someone New" still tackles those Hozier themes of loneliness and human nature. 
"I find Hozier's music always deals in the most visceral way with the contradictions that make us human," Dormer told RTE, Ireland's national public radio broadcaster. "He is an incredibly talented lyricist and the most wonderful musician and vocalist. It was a joy to be a part of the 'Someone New' video, which for me explores the struggle in all our heads between the real and imaginary. It plays with ideas of how loneliness and isolation are two different things and the weight or lightness we can attach to loving another person."
The track and the video prove that Hozier isn't just a one-hit wonder — the songwriter is here to stay.