Wireless Phone Charging Is Coming to Your Bedroom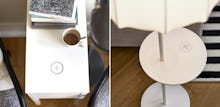 Do you love having a charged smartphone, but hate all those messy wires? On Sunday, Ikea announced a new line of furniture with the capability to wirelessly charge your phones, tablets and various mobile devices.
Using the increasingly popular Qi wireless charging technology, the Swedish furniture giant has designed a collection of bedside tables, lamps and desks that can charge compatible devices just through contact. Ikea will also be releasing individual charging pads that can go anywhere. The Home Smart collection is scheduled to go on sale in North America and the U.K. by April. 
The furniture in the line will feature a discrete "plus" sign to indicate it is Qi-compatible.
As smartphones and smart devices become increasingly integral to our everyday lives, this kind of technology is only primed to become more ubiquitous. According to a recent survey by GlobalWebIndex, 80% of online adults around the world own a smartphone, and those numbers are only growing. 
At the same time, wireless charging technology has been making great strides as the idea of "cutting the cord" applies itself to every aspect of our lives. Currently, two main methods are the market frontrunners: Rezence and Qi. Rezence is backed by the Power Matters Alliance, while Qi is the brainchild of the Wireless Power Consortium. 
Just like HD DVD versus Blu-Ray, DVDs versus LaserDisc and Betamax versus VHS, when two similar technology standard emerge, only one can win. Both Rezence and Qi have seen considerable success and each both exclusive compatibility with certain devices. 
But with what could be a major partnership between Ikea and Qi, it's very possible that the WPC just put itself in a position to become the industry standard for wireless charging. You can probably leave it to those two companies to compete for market dominance. In the meantime, get ready for the wonderful world of never having to look at another phone cable in your life. 
h/t Business Insider