One Chart Reveals Who's Really Using Welfare — And It's Not Who You Think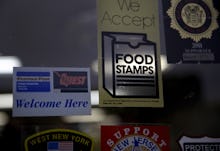 Mississippi Republican state representative Gene Alday suffered from a particularly bad case of foot-in-mouth racist controversy in February, when he told the Clarion-Ledger of Jackson, Mississippi, that "all the black people are getting food stamps and what I call 'welfare crazy checks.'"
Alday is wrong. In fact, a new chart from the Huffington Post, compiled using U.S. Department of Agriculture data from 2013, illustrates just how wrong he is.
The USDA reports that at least 40% of the 47 million SNAP (Supplemental Nutrition Assistance Program) beneficiaries across the country in 2013 were white. That's a solid 15% more than black beneficiaries, 30% more than Hispanic and a whopping 38% and 39% more than Asian and Native American beneficiaries, respectively.
As the chart shows, this data proves that the pervasive, racist discourse around who gets foods stamps needs to change.
As the Huffington Post reports, the majority of SNAP households included people largely unable to work (children, the elderly or those with disabilities), and 31% of SNAP recipients worked in 2013. Nevertheless, views like Alday's regarding "lazy blacks" who "don't work" persist. This is regardless of the fact that, as 2013 census data shows, white people are nearly three times less likely than African-Americans (9.6% compared to 27.2%) to live in poverty. And yet, white people still claim more food stamps. 
The 30 people arrested for welfare fraud in New York in February also were white.
White privilege is manifold: According to this data, not only do white people benefit from food stamps, they also benefit from not having politicians and pundits target and malign them as lazy, unproductive "welfare queens" who take advantage of a social safety net. This is white privilege. As the chart indicates, racist ideas about welfare have come to overshadow statistical facts that reveal the face of food stamps is white. 
h/t Huffington Post