Aziz Ansari Just Gave Us the Best Dating Advice We Should All Remember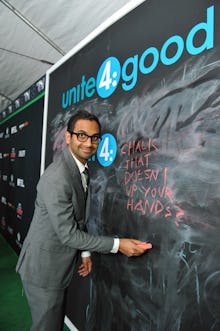 "Everyone is dealing with the same nonsense. Everyone is on this boat together, and it would probably be good if we were a little nicer on that boat." 
It sounds wildly sane, especially coming from a comedian known for sillier quips. But Aziz Ansari has one of the most level-headed takes on dating today, so much so that he's written a book called Modern Romance.
Ansari, of Parks and Recreation fame, spoke with TIME about the book, which was announced in 2013 but is hitting stores this June. The idea, Ansari said, grew out of his own confusingly muddled dating experiences, which all 20-somethings can relate to: slaving over texts, calls not being returned, dates going awry. 
So he spoke with researchers, including the top social psychologists in the field of relationships and regular people from cities including Tokyo, Wichita, Kansas, Paris and Buenos Aires. His finding? Everyone is dealing with the same stuff, Ansari told TIME, like "sitting and deciding what to write in a text." The problem is that when we don't empathize with each other enough, we end up treating each other far crappier than we should. 
Bad dating habits: While Ansari says the modern challenges of dating can't all be chalked up to digital changes. Our plugged-in, fragmented state contributes. When we can talk to a crush for weeks over OkCupid without ever meeting face-to-face, or when we swipe on apps that require us to objectify every person's profile we see, it's hard to remember there are real people on the other side. 
Even when we do remember, we've become hardened and jaded enough to disregard that knowledge. Take ghosting, that detestable modern habit of simply fading away sans explanation or even goodbye. In polls, men and women admit that they have both been "ghosted" by dates and "ghosted" other people themselves. Being the recipient of crappy behavior doesn't seem to keep you from doing it to someone else.
"I have stopped feeling feelings," one 27-year-old male New Yorker previously told Mic, only somewhat in jest. "I just understand that [ghosting] comes with the territory of most dating communication being over text. Sadly, I do it constantly ... I don't feel bad anymore due to the fact that it has happened to me a number of times." 
Chelsea, a 25-year-old dating in New York, admitted the same to the Huffington Post. "I'm a total hypocrite in that respect," she told the site. "I'll ghost someone without a second thought, but when it happens to me, I'm the first to run to my girlfriends in disbelief saying, 'The least he could do is let me down easy.'" 
Or, in an attempt to avoid awkwardness or confrontation, we reluctantly go on dates we don't really want to be on or, worse, drag things out with endless "scheduling problems." No matter which way you slice it, dating these days rarely includes honest consideration of others.
Let's play nicer: It's that acknowledgment of a common experience that can help ease the discomfort of dating, if not totally solve it. (The awkwardness of courtship is a timeless reality — just read some Jane Austen.)
We can send courtesy texts instead of ghosting, as one 27-year-old woman told Mic she always does. We can let go of dated dating platitudes that still make us self-conscious and judgmental (see: "He won't buy the cow if he can get the milk for free"). We can consider the stress and anxiety on the other end of the phone. 
And we would probably do well to read Aziz's book when it comes out. As the comedian writes in the intro, "We should take solace in the fact that, in every facet of modern romance, no one has a fucking clue what's going on." We're hoping the book uncovers at least few hints.
h/t TIME