The Real Problem With Hillary Clinton's Private Email Address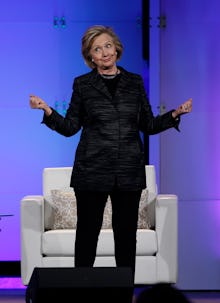 Before sending a single email as secretary of state, Hillary Clinton decided that her future conversations would remain out of public view for the foreseeable future.
On Monday, the New York Times reported that Clinton used a personal email account for government communications during her time as secretary of state between 2009 and 2013 and, in doing so, "may have violated federal requirements that officials' correspondence be retained as part of the agency's record."
The reporting surrounding this story suggests that Clinton made a deliberate calculation in 2009 that the criticism she would ultimately face for using a personal account would be more favorable than the alternative — namely, having the entirety of her email correspondence entered into the record and subject to scrutiny by Congress and the press.
The case against Clinton: As the New York Times reported, Clinton never had an official State Department email address in the first place. She wasn't mixing personal and professional emails — she didn't have a professional account at all.
"It is very difficult to conceive of a scenario — short of nuclear winter — where an agency would be justified in allowing its cabinet-level head officer to solely use a private email communications channel for the conduct of government business," lawyer Jason R. Baron told the New York Times.
The Washington Post pointed out that the domain name Clinton used for her personal email — clintonemail.com — was registered on the same day as her Senate confirmation hearing in 2009, suggesting that she fully intended to bypass the State Department's email system for conducting official business from the get-go.
The most charitable interpretation proposes that Clinton used a personal email address solely as a matter of convenience, that bypassing the clunky federal IT infrastructure was a way to do her job more effectively. "At the time, State Department policy would not have allowed her to have multiple email addresses on her Blackberry," Business Insider reported, citing two anonymous former State Department officials.
But that explanation doesn't stand up very well to scrutiny. Even if Clinton simply did prefer to use a personal email address as a practical matter, this carried the added benefit of skirting transparency measures and automatic archiving systems.
In 2013, when hacked emails revealed the existence of Clinton's account, Gawker filed a Freedom of Information Act request with the State Department for "all correspondence, electronic or otherwise," between Clinton and Sidney Blumenthal, a longtime Clinton confidante. They were told that none existed, which was, as Gawker notes, "exactly why Clinton used a non-State Department email server to conduct her official business."
Gawker also reported on Tuesday that two other Clinton aides used personal accounts to conduct State Department business as well, undercutting Clinton's claim that her use was a personal preference.
Clinton's defenders have offered a tortured rationale to explain her behavior. "Both the letter and spirit of the rules permitted State Department officials to use non-government email, as long as appropriate records were preserved," Clinton spokesman Nick Merrill said in a statement. "When the department asked former secretaries last year for help ensuring their emails were in fact retained, we immediately said yes."
What this says about Clinton: Chris Cilizza writes in the Washington Post that the email revelation "reminds and reinforces for people many of the traits that they do not like in the Clintons while also suggesting a level of hubris that is very dangerous for someone who is the biggest non-incumbent frontrunner for a presidential nomination in modern political history."
The deliberate nature by which Clinton actively avoided using an official State Department account only bolsters the types of criticism that have been leveled at her throughout her time in public life. Episodes like this fuel the perception that Clinton is overly secretive, paranoid to a fault and willing to bend or discard the rules to get her way.
Judging by her willingness to skirt the normal processes from the start of her tenure as secretary of state, Clinton doesn't seem too bothered by the criticism.