My Morning Jacket's New Single Is Why They're One of the Last Great Rock Bands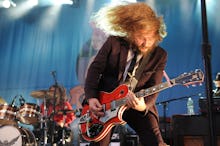 My Morning Jacket has been releasing albums since 1999, and in that time they have become one of the last truly strange American bands in an otherwise staid genre: rock 'n' roll. Still, a 17-year-career threatens complacency, and the band neared irrelevance with their last release, Circuital. But after they released their new single, "Big Decisions," on Tuesday morning, there's no doubt that My Morning Jacket is still one of the most vital bands in American rock.
"We see all these artists around us who are so talented, and they're just dying in the trenches," lead singer Jim James told the Guardian in a 2011 interview. "Then we see the people who're selling millions of records and flying in private jets and everything, and they're just like marketing projects, scientific experiments created to look and sound like the real thing. It's such a fuckin' head-trip."
Almost nothing is calculated about My Morning Jacket. James found surprising success with the group's 2004 cover of Elton John's "Rocket Man," and since then, he's become something of a space cadet himself — a glorious, wandering, self-styled mystic who often sings and perhaps never shaves. In announcing the new single on their website, the band wrote, "Recorded in Stinson Beach, California, the album is steeped in the spirit of where it was made." James followed up with a clarifying point: "Stinson Beach was so psychedelic and focused. It was almost like we lived on our own little moon out there."
That's the voice of a man who used to record in an emptied grain silo for the natural reverb. In his early career, on records like The Tennessee Fire and At Dawn, James evinced a purity and vulnerability that few other rock singers attain. His weirdness sometimes led him astray, though — he lost some of that magic in the self-consciousness and production sheen of 2008's Evil Urges and 2011's Circuital. Now, on the first release off The Waterfall, due out on May 4, he's right back in the same place he started out.