These Horrifying Quotes From a Convicted Delhi Rapist Will Leave You Speechless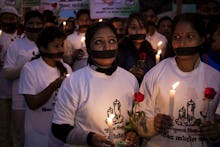 In a chilling new interview, the driver of the bus in which a 23-year-old Delhi woman was raped and beaten to death by six men in 2012 has spoken out about the incident.
Mukesh Singh is currently on death row for his role in the attack, and his words — recorded by documentary filmmaker Leslee Udwin for her upcoming BBC Four film India's Daughter — speak terrifying volumes about our tendency to blame victims for their own rapes.
"A decent girl won't roam around at nine o'clock at night. A girl is far more responsible for rape than a boy," he told Udwin, according to an essay she wrote for BBC News. "Housework and housekeeping is for girls, not roaming in discos and bars at night doing wrong things, wearing wrong clothes. About 20% of girls are good."
Singh went on to criticize the victim for fighting back, claiming she'd made things more dangerous for other women in India:
"When being raped, she shouldn't fight back. She should just be silent and allow the rape ... The death penalty will make things even more dangerous for girls. Now when they rape, they won't leave the girl like we did. They will kill her."
It's hard to imagine anything less horrific coming from the mouth of a gang rapist. But what is perhaps most disturbing about Singh's comments is how much they reflect a global attitude towards rape. From India to the U.S., citizens and officials alike display a troubling inclination to sympathize with rapists and vilify their victims.
Think Progress documented this pattern as it pertained to the 2012 Steubenville, Ohio, rape case, highlighting how the media's coverage — specifically that of CNN, ABC, NBC, the Associated Press, USA Today and Yahoo! News — emphasized the rapists' potential as students and athletes, and the victim's drunkenness. In Vas County, Hungary, last year, a police-sponsored rape awareness film warned young women that "flirting" on their part could "elicit violence," the BBC reports. And at Eckerd College in St. Petersburg, Florida, school president Donald Eastman III encouraged students in 2014 to help prevent rape by "[drinking] less" and abstaining from "sex before marriage," according to BuzzFeed.
Missing from these responses to rape is a rather obvious fact: No matter who they are or how "promising" their futures may be, the only people to blame for raping are the rapists themselves. The misogyny from which such victim blaming stems relies heavily on de-centering victims' experiences and humanizing their attackers.
Interestingly, Udwin's documentary has been accused of just that. While acknowledging the difficulty of presenting such a multifaceted topic, Nilanjana S. Roy at the Guardian also takes issue with the film's heavy advertisement of the rapists' involvement, claiming its press materials — "For the first time, the face of evil, the rapist speaks on camera," they reportedly say — risk turning the rapists into celebrities and silencing their victims.
"This is highly problematic," she writes. "[There] is ... a fine line between interviewing a killer and giving him a platform from which to justify his terrible actions."
In any case, Singh's interview illustrates a very real tragedy. Delhi has been called the "rape capital" of India; its title has been justified through a series of high-profile incidents like the aforementioned. During that attack, Singh and five other men assaulted a 23-year-old woman — prosecutors say all six men raped her, but Singh maintains he was driving the entire time — beat the male friend she was traveling with, then attacked her so "viciously" with an "iron instrument" that she eventually died of her injuries, according to the BBC.
It's also a city where people fight back. Mic's Julie Zeilinger recently wrote a story about the so-called "Charlie's Angels," a specially-trained squad of 40 female police officers who work undercover near "vulnerable landmarks" — schools, metro stations, buses and the like — and meet violence with violence wherever they encounter it.
It's a start, but it remains a far cry from the comprehensive approach required to truly curb rape in Delhi. Nationwide, as reported in the Washington Post, a rape was committed in India every 22 minutes in 2014. In the U.S. in 2013, a woman was raped every 6.6 minutes. This has to end. And part of that process requires us to come to honest, unambiguous terms with who is actually responsible for rape.
Correction: March 5, 2015