'Community' Trailer: #SixSeasonsAndAMovie Never Looked So Meta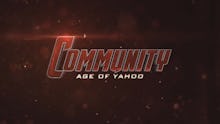 "Six seasons and a movie," Community's Abed cried about his beloved Cougar Town in a season two episode. What seemed an impossible goal for both Cougar Town and for Community itself is closer than ever to being fulfilled. Now, with Tuesday's release of the Community season six trailer, it's also just one movie away from fulfilling that sacred hashtag covenant.
Of course, the Community we have now is far different than the one that debuted on NBC back in 2009. Cast members like Donald Glover and Chevy Chase are long gone. Creator Dan Harmon departed in season four, only to return one year later. And, of course, the show itself has moved from NBC to Yahoo.
Dubbed Community: Age of Yahoo in the trailer (aping the next Avengers film's subtitle, Age of Ultron), the show isn't shying away from acknowledging the strange road it's taken to get where it is. From introducing "new Shirley" (Paget Brewster) to replace departed cast member Yvette Nicole Brown to an ominous voiceover about what happens when you try to save something you never should have saved — Community fans aren't exactly known for going down without a fight — the whole trailer is piling on the extra dollops of meta.
Of course, Community has always been meta; more than that, Harmon and his team have always been skilled at parody. This trailer shows those two instincts coming together. Judging by this clip, Community season six is going to bring new meaning to the word "meta."
Unlike other streaming service originals, Community won't debut all its episodes at once. The sixth season will begin on Yahoo Screen March 17, and will air every Tuesday after. The movie probably isn't far behind.