Kelly Clarkson's New Album Is Exactly Why She's Still a Pop Legend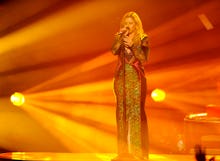 The world has been woefully Kelly Clarkson-less for more than four years. With the exception of her best-selling Christmas album in 2013, the last time the American Idol released new material was on 2011's Stronger. In the time since that album, it was easy to forget Clarkson — to assume she'd gone the way of so many TV contestants before her and faded into obscurity.
But on Tuesday, Clarkson released Piece by Piece, her 7th studio album in the 12 years since she was introduced as a formidable pop presence. On it, she reminds us all why she's still a pop legend.
Kelly Clarkson was the first ever American Idol. But before winning, before standing up to Clive Davis, before singing at President Barack Obama's inauguration, Clarkson was a small-town waitress with no real musical career to speak of. She moved to Hollywood fresh out of high school with dreams of being a singer, working odd jobs before returning home to Burleson, Texas, after four months. When a new TV show called American Idol rolled into the Lone Star State, Clarkson tried out.
After America fell in love with her, Clarkson won American Idol in 2002 and released her first single, "A Moment Like This." It was easy to doubt that her career would go anywhere, but she swiftly proved any such doubts wrong. Since her debut, Clarkson has won three Grammys, landed 10 songs in the top 10, and released five platinum or multi-platinum albums. She's the first female ever to record a #1 Christmas album. She holds the record for the "largest leap" to No. 1, when her 2009 single "My Life Would Suck Without You" soared from No. 97 to the top spot on the Billboard Hot 100. And of course, she has, according Rolling Stone, "one of music's most remarkable voices." 
Clarkson is a wildly accomplished musician, despite what some critics consider a dubious start. "I love the way I came into the business," Clarkson told Time recently. "People don't even realize Frank Sinatra got into the business through a competition. I don't think it matters how you got here, it matters if you're good enough to hang around."
People seemed to forget about her during the four years since she's released original material, but she hasn't been twiddling her thumbs in the interim. She released a greatest hits collection in 2012, followed by her best-selling Christmas album in 2013. The same month that she released the latter, she married talent manager Brandon Blackstock, and eight months later the couple welcomed their first child together. 
Clarkson, always one to overcome an obstacle, was pregnant while she recorded Piece by Piece, and said the experience was "fascinating." "Everything is enhanced: your whole body, every emotion, every thought, every vocal," she told Time. That recording experience, she said, especially influenced her song "Invincible": 
A big return: Though Piece by Piece follows a long hiatus from the star, she's coming back full-force. The album is incredible, and it has a few surefire hits. But she won't stop there. She was actually working on a country album while recording Piece by Piece, according to Fuse. The country sound isn't a huge departure for Clarkson; in 2010, she sang on country star Jason Aldean's album, My Kinda Party, and she released the stand-alone country single, "Tie It Up" last summer. Clarkson hasn't revealed a release date, but told WGNA that the album is almost done. After an absence, it's about to be Clarkson's time once again — just one more challenge she's faced, and absolutely conquered.