9 Photos That Prove Men Can Be Cat People Too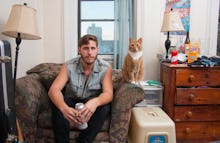 It seems gender stereotypes invade almost every part of our lives — including our relationships with our furry friends. From Selina Kyle to the ubiquitous "Crazy Cat Lady" stereotype (happily appropriated by the likes of Taylor Swift), kitty love is a frequently gendered, not to mention sexist, dynamic. 
Now, Brooklyn photographer David Williams' photo series "Men & Cats" shows that men love felines, too. 
Williams, a self-proclaimed cat lover — his 3-year-old rescue is named Margot — began the project in 2009. He told Mic that this series has been a fantastic way to challenge gender stereotypes: "I found the way society [genders] animal ownership very compelling. ... It was also a good excuse to hang out with a bunch of cats!"
He explained that by questioning "why society would associate a pet as more feminine than masculine," the series helps change peoples' assumptions about gender and pet ownership. 
Williams said that the series gaining popularity on social media has revealed to him the extent to which "people associate cats with females." He's not sure why that is, nor why stereotypes like the "Crazy Cat Lady" exist. "I believe no one should be labeled as 'crazy' for loving a pet," he said.
A different type of love: Depictions of cat love are nothing new on social media, and men have been paired with cats in a number of online ventures, from Tumblr sites like Des Hommes et Chatons to videos like BuzzFeed's "Giant Men Meet Tiny Kittens." But Williams' photo series explicitly raises the question about the gendered perceptions of cat ownership, or, for that matter, parenting. With over 30% of American households owning at least one cat, series, the many online homages to the feline species resonate with men and women alike.
Cat Bros and their cats in their natural element: Pictured with their cats at home or outside, the men in this series show that anyone can be a cat person. "I feel like every guy that I photographed is different than the next," Williams said. "But one thing that was for sure is that they all have very loving relationships with their cats." 
Indeed, Carroll University psychologist Denise Guastello showed in her 2014 research, cat people are generally intelligent, introverted and independent — traits that may attract them to feline-ownership. Their gender is inconsequential, although some research suggests cats bond more intensely with women and that men are more attracted to the "doting behavior" of dogs, psychologist Pia Salk contends in Forbes, because this reaffirms men's "alpha" status.
Cats and bros in culture: Throughout human history, cats have held a significant place in society, as symbols of intelligence, nobility, creativity and even protection. For Williams, their significance holds a more bro-like esteem, akin to the behavioral nonchalance of the mythical urban "lumbersexual." When asked why cats are so special to humans, he responded, "Because they are adorable."
"They all have very strong personalities and do some pretty ridiculous things that I think people just want to be around them."
And, perhaps our modern-day cat love is precisely that — just wanting to spend time with pets for basic creature comforts, and, of course, cuddles. As the photos show, these bearded bros simply want to chillax with their cats. Unlike dogs, cats, as their cultural significance in history attests, don't reify their masculinity.
Perhaps, cats make men more human.