Tinder Wants Older Users to Pay Extra — And That Reveals Everything Wrong With the App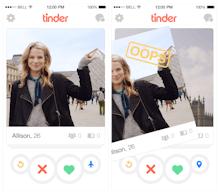 Questioning your purpose. Adding flashy upgrades. Ditching the older crowd to prove you're all about staying hip with the younger kids. Showing your age in the process.
Yes, Tinder is having a midlife crisis.
The debut of Tinder Plus, a long-awaited paid version of the dating app with upgraded features, has riled the Internet this week. Tinder's premium service met skepticism even before it launched: In this day and age, how can any dating app, particularly one predicated on passivity and casual commitment, find anyone who wants to pay? 
Then came the bigger reveal when Tinder Plus launched Monday: The premium subscription model will cost $9.99 a month for users under 30 — and $19.99 per month for users over 30.
Cue the outrage, as well as the confusion: Why is Tinder making decisions that demonstrate zero understanding of what — and who — it's actually for? In trying to appeal to youth, Tinder is alienating the only people who might be willing to pay for it.
"Hot hookup app" turned "lackluster dating app": As a sexy "hookup" app, due to its singular filter for location and its famous, appearance-based swipe feature, Tinder is supposed to be perfect for young people looking for an easy, passive experience — one that doesn't necessarily yield results but takes so little effort in the first place that the trade-off is minimal.
But while there are those who use Tinder mainly to hookup with strangers, the app has become largely a dating app, hence the now-ubiquitous phrase "Tinder date." Turns out, people don't only want to hop into bed with strangers but maybe also go out for a drink first, or even find something long term. 
Unfortunately, attempting to truly date on Tinder, an app built for passivity and apathy, can be painful. The filter-free mix of people is less than ideal for finding real connections. "Tinder has definitely become an app for sketchy people ... it's too diluted with garbage," is how Nick, 25, and dating in New York, put it. 
You can swipe for hours upon hours, only to be be rewarded with "icky messages and dates with guys who turned out to be jerks," Marci Robin wrote for xoJane. Even when the dates aren't awful, they're not necessarily enjoyable.
"I just found blind dates" — which is essentially what Tinder dates are — "are really hard, more like interviews and not really fun," said Max*, a 26-year-old New Yorker, explaining why he quit the app. 
When used for its ideal purpose, Tinder is for the minimally committed, most passive daters, the ones who probably don't want to pay for someone's drinks, much less a monthly subscription. Its current purpose, dating, is something it's simply not built for. Actively dating on Tinder takes true effort and commitment.
Dating for grown-ups: Ironically, the people seemingly willing to make that effort and commitment are precisely the people Tinder is boxing out: older people. "It's actually the perfect app for someone in their thirties, or older, to find love," Doree Shafrir wrote for BuzzFeed. Just take the recent New York Times couple, 40-somethings who married after meeting on Tinder.
Thirty- and 40-somethings are likely more committed to an active dating search, making them less passive users of apps and more willing to endure the challenge. Plus, as Shafrir notes, Tinder connects users with a massive pool of potential partners, something that people in their 30s and 40s need far more than dime-a-dozen single 20-somethings.
Most importantly, older people might be the only ones willing to pay for dating. A payment model is in direct odds with younger users in it for the ease and apathy of casual dating; the only dating sites and apps that have successfully charged users are sites like Match.com, which caters to a slightly older crowd. (Tellingly, JDate's payment model works, in part, because young people's parents happily pay the fees for them.)
A crisis of identity: The payment model is ostensibly about cutting poorly paid millennials a break, Tinder's vice president of corporate communications told ABC News. But more likely, it's about sending the message that Tinder is for the young and the hip, with a "keep out" sign for older folks. Mic reached out to Tinder for comment and did not hear back by the time of publication.
It's a misguided strategy. Younger users looking to use Tinder for its original casual intent won't commit to subscription-based Tinder precisely because they want something non-committal. Younger users interested in dating are abandoning Tinder because dating on the app is seriously un-fun. 
And yet Tinder just went and marginalized the older audience who might be willing to embrace it the most. Like with so many midlife crises, we assume the end result won't be pretty.
*Name has been changed.