Willow and Jaden Smith Are Releasing Weird New Music — Here's Why We're Excited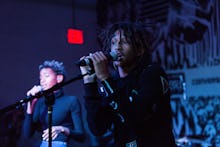 It's been nearly four months since Jaden and Willow Smith graced the pages of New York Times Magazine and baffled the hell out of everyone. The teenaged son and daughter of Will and Jada Pinkett Smith talked about their interest in "the melancholiness of the ocean," the "theoretical physicist inside all of our minds" and, how "when you think about an apple, you also think about the opposite of an apple." 
They were then called "nuts," "bizarre" and "totally bonkers." Some critics were sarcastic, others confused, a few even mean. But the interview was more than tabloid fodder; it showed the Smiths for who they are: The source of some of the best psychedelia to hit pop music in a while. Since the interview, Jaden and Willow have taken that weird cred and used it to their advantage. They've been releasing new music. As Vulture pointed out, it's really good. And so, so strange.
Source: Soundcloud
Jaden, 16, and Willow, 14 were born into Hollywood royalty: In 2009, Forbes named Will Smith the most 'bankable' man in Hollywood. Jaden made his film acting debut at 8 years old, starring alongside his dad in The Pursuit of Happyness, and in 2010, the youngster starred in the Karate Kid remake alongside Jackie Chan. Willow first appeared on the big screen in 2007, when she was 7 alongside her dad in I Am Legend. 
It wasn't long before the kids picked up another of their father's talents: music. In 2010, 9-year-old Willow released her hit single "Whip My Hair." Two days after it leaked online, Jay Z heard the track — claiming that he didn't know Willow was 9 or that she had famous parents — and immediately signed the budding songstress to his Roc Nation label. 
"I believe in superstars," Jay Z said, according to MTV. "I believe in big records and superstars, and I think she has both."
Jaden jumped into music soon after. In 2011, he accompanied Justin Bieber on "Never Say Never." Two years later, Jaden debuted his first original music on a mixtape called The Cool Cafe: Cool Tape Vol. 1, then in 2014 followed up with Vol. 2. He even appeared on Childish Gambino's "Late Night In Kauai."
Out of all that early exposure, Jaden and Willow have emerged as original talents in their own right. Their music is becoming about as trippy as they are, and it's doing wonders for the sound. Jaden released an EP of three songs called This Is the Album in February. He's surprisingly good, and you'd never guess he's 16 years old. Jaden worked with past collaborator and producer Daniel D'artiste on the tracks, among them the dark "Scarface."
Source: Soundcloud
Meanwhile, Willow has come a long way since "Whip My Hair." In November 2014, she released her first EP, 3, and continued the tradition that she and her brother share when releasing new music, which is to offer it as a free download. Within the last month, Willow has released five new songs on her Soundcloud page — every one of them has been a trip through the swirling mind of the budding artist. On the song, "H E A R T" off Interdimensional Tesseract, she sings "Inside your mind I converse with your star self ... Hidden in a cloud, I'm hydrogen atoms ... Just like the Martians." The beat and her delivery are reminiscent of emerging R&B legends like FKA Twigs or Solange Knowles.
Source: Soundcloud
So far in their short lives, Willow and Jaden have dropped considerable knowledge on the media and in music. The music they're writing is mature and weird — it's also a lot better than most of the mindless pop in the top 40. We can't wait to hear what comes next.