Watch the Mind-Blowing New Trailer for 'Avengers: Age of Ultron'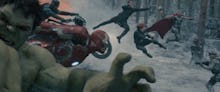 A new trailer for one of the biggest film franchises in the world is news enough for one day. But for Marvel and Disney, The Avengers: Age of Ultron's trailer is just rewarding hard work.
On the @Avengers Twitter handle at 9 a.m. the comic book movie giant urged fans to tweet using the hashtag #AvengersAssemble. Rather than requiring a specific number of tweets, retweets or favorites needed to unlock the trailer, Marvel used an innovative technique — a progress bar embedded into the tweet.
The website Topsy, which tracks social engagement, counted as of press time 67,000 tweets with the hashtag over the past 24 hours — plus the original tweet getting retweeted 7,000 times — as of the 78% mark. Roughly estimating, with a margin left for slow tracking, that would indicate the goal was roughly 100,000 tweets and retweets combined. As the trailer was released at 1:13 p.m., this would project to an approximate 25,000 tweet-per-hour rate. Not too shabby.
The practice of triggering user engagement as a way to release content isn't new. It's such a prominent practice, some are having to backtrack when it doesn't work out. But used in this fashion, with an innovative mechanism that keeps the actual goal a secret, is an interesting twist on the formula. With this campaign's success, it's not hard to imagine seeing this device again in the future.
As for the trailer itself: It's The Avengers — you know whether you'll be seeing it without seeing a single still or clip, and it will make approximately seven zillion dollars at the box office. But it's a good clip — and hey, looks like Black Widow and Bruce Banner are getting steamy, huh?
And in case that wasn't enough to get your excited, here are some of the best moments in glorious GIF form:
Oh yeah.