Here's the Dark Secret Behind #TheDress That Everyone's Ignoring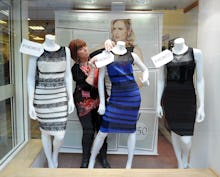 Pretty much everyone's seen #TheDress. But pretty much no one knows where it came from.
A 2007 investigation by the Observer implicated the dress' makers in producing their clothing in sweatshops using child labor overseas. Roman Originals, the latter of which produces #TheDress, apparently employed Indian companies that subcontracted to sweatshops where poor children as young as 9 were forced to work in filthy conditions.
The background: According to the Boston Globe, when Twitter users argued over the visual illusion, sales of the famous dress skyrocketed by 560% on Friday, while the website saw a 2,000% increase in Web traffic. "It's pretty phenomenal," creative manager Ian Johnson told the paper. "We're absolutely ecstatic about how well the dress has been received by the world!"
It sounds like Roman Originals is poised to make a lot of money. But eight years ago, Roman Originals was, knowingly or not, propping up its profit margins with forced child labor. 
Photographer Adrian Fisk, who accompanied reporters Dan McDougall and Jamie Doward into Haryana state, near New Delhi, for the 2007 investigation, told Mother Jones, "Generally, the ages probably were averaging about 13, 14, but we did see [children] as young as what we thought to be about 7." 
He added that the workers looked as though they had "grown up too quickly ... just not enough fun, not enough happiness. You can see it in the eyes, this slightly glazed, deadened look."
Though Roman Originals did not immediately respond to a request for comment from Mic, it released a statement to Mother Jones clarifying that the dress in question was manufactured by a company in Shenzhen, China, and that it terminates relationships with any suppliers linked to labor abuses. 
It also provided an updated statement of company "ethical standards" and their "codes of practice," which were updated following the 2007 incident and state that "Roman Originals will not tolerate the use of child labor by any of its suppliers."
A larger problem: While Roman Originals claims #TheDress wasn't made under questionable circumstances, the company may have a dark manufacturing past, and it wouldn't be the only one.
Liana Foxvog of the International Labor Rights Forum told Mic that while she couldn't comment on the specifics of Roman Originals' labor practices, the garment industry has generally awful conditions for the workers who actually sew, stitch and knit clothes. 
"Companies all too often distance themselves from the labor working conditions in their supply chains," Foxvog told Mic. "We find that all too often they also turn a blind eye to violations of worker rights in their supply."
Popular brands such as H&M, Nike, Victoria's Secret and the Gap have all been accused of utilizing various forms of sweatshop labor. 
"By and large the conditions in the global garment industry are sweatshop conditions and we find pervasive poverty wages, violations of workers' rights to form unions and major health and safety violations in garment factories around the world," Foxvog said.
She noted that Western companies implicitly encourage these conditions by treating outsourced labor as a way to save massive amounts of money on production costs. 
"The conditions that garment workers face are often caused not only by the factory manager, but by the terms and conditions that the global retailers put on the factories, whether it's short turnaround times or high production quotes and small amounts of time to return the order," Foxvog said.
The human cost of this system is staggering. Last year, the Walk Free Foundation's Global Slavery Index reported that approximately 30 million people worldwide lived in conditions close to slave labor. Nearly 14 million lived in India. 
A separate report by the International Federation for Human Rights concluded that violations of workers' rights were common in the Indian states of Tamil Nadu, Uttar Pradesh and Haryana. The report noted prevalent child labor, gender discrimination, low wages and an "alarming level of control both within factories and at hostels, including through restrictions on their freedom of movement and communication outside the factory." 
Child labor was rampant, while unionizing workers often faced penalties ranging from losing their jobs or being arrested. In some cases, they were killed.
In Shenzhen, where Roman Originals manufactures #TheDress, Women in Informal Employment: Globalizing and Organizing reports that workers face similarly dismal conditions. Between 1980 and 2000, Shenzhen grew from a small city of 300,000 to more than 4.3 million, about 70% of whom are migrant workers from rural areas. 
Many of them work long hours for little pay, live in company dormitories where their behavior is monitored and controlled and are taken advantage of by employers who know staff are unfamiliar with their rights under Chinese labor law.
Why you should care: Whether it's #whiteandgold or #blueandblack doesn't really matter if it was made in unfair working conditions. While Roman Originals may have adopted higher standards since being caught red-handed in 2007, odds are pretty good that a lot of the clothes being sold right next to #TheDress were made by people whose rights are being systematically exploited. That's a much bigger dilemma than a visual illusion.
Foxvog says that it would be nice if #TheDress were used as a teaching moment about the horrible conditions widespread in the garment industry. 
"There is a lot of campaigning right now to improve working conditions in the garment industry," she said. "If people who are noticing this dress issue on Facebook also took the same amount of time to sign a petition or learn more about how to get involved, I think that would go a long way."
Correction: March 5, 2015