Here's the Obscene Amount of Money "Blurred Lines" Made Off of Sexism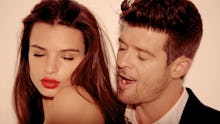 The trial over the alleged plagiarism of Robin Thicke's "Blurred Lines" has been ongoing for the past week. A case that's already been pretty strange became legitimately insane Tuesday. According to the Hollywood Reporter, Tuesday's session in the "Blurred Lines" copyright trial revealed that the song, which numerous publications condemned as being one of the most sexist songs in recent memory, made $16,675,690 in profits. 
Over $16 million in profit. That's an obscene amount of money for a song that is essentially a "no means yes" rape justification in song form. More than anything, it's painful proof that sexism, it seems, still sells.
To anyone who may have forgotten: In "Blurred Lines," Thicke tells "a good girl" that he knows she wants "nasty" sex, though she isn't asking for it. Meanwhile, TI assures this "good girl" that he'll "give [her] something big enough to tear [her] ass in two." And the NSFW video that accompanied it featured three topless models wearing skin-toned panties fawning over fully clothed men, making it very clear where the power dynamics lie in that scenario. 
In a May 2013 interview with GQ, Thicke admitted that TI, Pharrell Williams and he attempted to make the song as degrading to women as possible:
"We tried to do everything that was taboo. Bestiality, drug injections and everything that is completely derogatory towards women. Because all three of us are happily married with children, we were like, 'We're the perfect guys to make fun of this. ... People say, 'Hey, do you think this is degrading to women?' I'm like, 'Of course it is. What a pleasure it is to degrade a woman. I've never gotten to do that before. I've always respected women.'"
Thicke has backpeddled on those statements somewhat since. He claimed that when writing and giving interviews about the song, he was constantly out of his mind mixing vodka and Norco, a narcotic painkiller like Vicodin. But "Norco made me sexist" doesn't quite cut it.
More than a video. But even though Thicke and Williams intended only to "make fun" and play out a little misogynistic fantasies, their artistic choices actually have far-reaching effects on viewers at large.
"The video is pretending in some ways like it's being a little tongue in cheek and that it's playing at these stereotypes, but it's really just repeating them and confirming them," Dana Edell, director of the Sexualization Protest: Action, Resistance, Knowledge (SPARK), told Mic. 
"The underlying truth is that it's perpetuating incredibly dangerous messages about consent and lack of needing consent. The incredibly dangerous idea that women are just there to please men as physical objects and sexual objects."
A 2014 study commissioned by End Violence Against Women entitled "Pornographic Performances" found that people who view sexualized music videos ("Blurred Lines" was one of the examples in the study) "express more sexist attitudes towards women and are more tolerant of sexual harassment."
"They are more likely to endorse the 'sexual double standard' which sees men who have many sexual partners as admirable and women who do so as 'sluts,'" the study's press briefing reports. "In one study, viewers who watched sexualised [sic] videos and who were then asked to comment on an 'acquaintance rape' scenario were more likely to make excuses for the perpetrator."
These types of videos support rape culture. Unfortunately, these sexualized portrayals still earn millions for their creators. However, Edell believes good news is on the horizon.
"Things are changing. Advertisers are noticing that if they are continuing to objectify women to such an extent in their advertising and their media there's going to be backlash, and that backlash is not going to be good for their product," she said, citing the abnormally low amount of sexist advertising during this year's Super Bowl. 
"I don't feel like someone could make a video like 'Blurred Lines' today and get away with that — at least I hope I'm right. I feel we are slowly be surely away from that being acceptable."
Whether "Blurred Lines" is ultimately found guilty of ripping off Marvin Gaye's "Got to Give It Up," it's still guilty of making our culture a more hostile environment for women — and profiting from it. But we as consumers can speak with what we choose to consume. Support artists and organizations that support women in a positive way, and one day the lines may no longer be so blurred.