Meet the Size-22 Model Destroying Society's Beauty Standards — One Photo at a Time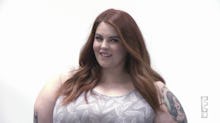 Just a few weeks ago, model Tess Holliday became the first woman of her weight and height to be signed to a major modeling agency. 
The news generated widespread support, and the excitement was clearly warranted: In a new campaign for clothing brand Torrid, Holliday proudly appears sans airbrushing. The gorgeous photos are already proving that featuring models with diverse bodies in ads isn't just "good" or "right," but may actually change the way brands approach advertising altogether.
The company behind the new ads feature clothing for women sizes 12 to 28. "Torrid carries clothing that makes you feel that you can still be plus-size and sexy and cute," Holliday commented in a behind-the-scenes video.
Holliday has long been a vocal supporter of embracing natural beauty. In fact, she is the mind behind the social media movement #EffYourBeautyStandards. "I was tired of being told what I could and couldn't wear by the media and how I should cover my body because of my size," she told the Huffington Post. "I decided 'eff that,' I will wear what I want!"  
Holliday's inspiring perspective on beauty is all the more meaningful when incorporated into a mainstream ad campaign. Studies show that exposure to idealized media images of women has a very real impact on viewers' self-esteem and conception of their own body image. Having a more realistic alternative held on par with other mainstream campaigns may prove meaningful for young women looking to the media for cues about their own self-worth and understanding of beauty. 
This campaign should also show other advertisers that featuring models of diverse sizes is not only beneficial to consumers, but works well to generate revenue. (Advertisers need look no further than the Dove's massive increase in sales after the brand launched their "Real Beauty" campaign to understand that bolstering self-esteem, rather than tearing it down, can sell.)
Holliday has not only generated incredible amounts of excitement in the month since she's been signed, but has also enjoyed the support of over half a million Instagram followers since well before the mainstream took notice. Featuring plus-size models like Holliday, therefore, benefits not only potential customers, but also the companies trying to engage them. 
"We have so many forces around us that try and influence us otherwise," Holliday wrote in a 2013 Huffington Post essay. "Why be our own worst enemy?" 
It seems that Holliday — and other body-positive activists — are not just refusing to hold themselves back, but are further demanding that mainstream corporations and media take notice. Hopefully, they will continue to do so, and the public will continue to support their inspiring efforts.
h/t Business Insider