Listen to the Incredible New Instrument That Made $80,000 on Kickstarter in Just Six Hours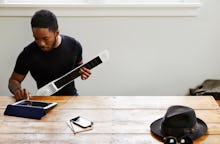 The Artiphon Instrument 1 is revolutionary. The name says it all: It's the one and only instrument you'll ever need. Thanks to groundbreaking technology, Instrument 1 transforms into any instrument, from guitar to drum to piano — even a sitar or saxophone. And unlike a lot of new instruments, it sounds and plays amazingly well.
Lifelong musician Mike Butera invented Instrument 1 after earning his doctorate in sound studies at Virginia Tech, according to a Kickstarter project video. He noticed that what was missing from modern instrumentation was a multi-use instrument that anyone could use and for any purpose at all.
That led Butera and his Nashville-based Artiphon team to start work on a prototype four years ago. On Tuesday, they launched a Kickstarter campaign to fund large-scale production of the result. Within six hours, the campaign had already made $80,000, surpassing its $75,000 goal; by day three, it had blown past $200,000. Its success is due, in part, to its appeal to a wide range of musicians.
"We chose the name INSTRUMENT 1 partly because we want people to approach it as a blank creative canvas," Butera wrote Mic. "Software lets you make any sound, but hardware instruments tend to do just one thing. It's either a keyboard, a guitar, a DJ controller, etc. We envision musical multi-instruments that can flexibly adapt to however you want to play."
Plugged into an iPhone, PC, Mac or iPad, Instrument 1 is compatible with hundreds of music apps, like GarageBand or Animoog. "We believe anyone can make music, and that most people really want to," the team says on Kickstarter. "Like snapping an Instagram, now you don't have to already be a professional to start making music and enjoy every note." 
Instrument 1 is for everyone, from professional musicians to first-time players. On the face of the instrument is a fretboard that mimics a guitar. The digital "strings" are touch-sensitive, so the harder you tap or strum, the louder the sound becomes. Those "strings" turn into practically anything: synthesizer pads, oboe keys, Dobro strings — whatever you can dream up, Instrument 1 can play. 
"People tend to think of themselves in binary ways: musician or not, guitarist or not," Butera explained. "I don't share that perspective, I think it's a spectrum based on your confidence to pick up an instrument and enjoy whatever sound you make."
What's truly amazing is that you can play multiple instruments at once: a guitar on the top row of strings, say, and a bass on the lower row. "That's exactly what we're creating — one instrument that lets you be the whole band," their Kickstarter says.
The Instrument 1 cycles through different instruments with just the turn of a dial. As a violin, for example, you use your iPhone as a bow; the company says it's working on a feature that will turn Apple Watch into a bow, too. Like a real violin, the strings have vibrato. And it's totally ambidextrous, so if you're a lefty, you just turn the instrument around, and it adjusts.
This is simply the best new instrument on the market. Thanks to fast-paced technology changes, new instruments are popping up all the time. The Disney Research Lab is turning houseplants into interactive instruments, media artist and research scientist Dmitry Morozov has a machine that can turn tattoos into music and the Red Bull Music Academy asked artists to conceive of the instruments of the future. While these instruments are pushing boundaries, the Instrument 1 is the only one left standing when it comes to ease of use, accessibility and affordability. It sounds and looks amazing — and it's the sort of thing that will actually add to a band rather than simply distracting.
For professional musicians, the Instrument 1 is especially appealing because it never needs tuning and the strings never break. But Artiphon is aiming high with the instrument. "The inspiration came from the intersection of mobile music technology, traditional instrument lineages and our belief that music-making is a fundamental desire," explains Butera. When the Instrument 1 ships out in January 2016, it's a desire everyone will be able to express.