Conan O'Brien Visits Cuba and Reminds Us It's Actually a Pretty Normal Place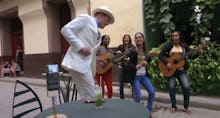 Conan O'Brien doesn't know much Spanish, but that didn't stop him from making the most of his trip to Cuba. A few salsa dancing lessons and awkward conversations with marketplace owners later, it's clear he did.
In a special episode of Conan on Wednesday, late-night's gangliest redhead took a trip to Havana, taking advantage of President Barack Obama's normalization of relations with the former patriae non grata last December. Those raised on memories of Fidel Castro's repressive regime and stories of the Cuban Missile Crisis might've expected O'Brien to find a country ravaged by dictatorship. Instead, he found and showed audiences what Cuba is: a culturally rich country living down its history.
O'Brien outlined his two goals for his trip: "To meet the people and try to make friends." But he outlined his goal even further in an interview with USA Today earlier this week:
"I felt strongly that I do not want this to be a smart, snarky American comedy take," he says. "I don't want this to be political. A lot of my remotes are me as a fish out of water, the jokes are usually on me, I want to go as a comedian making fun of myself and make Cuban people laugh. In that regard, I think I was successful."
He was more than successful. The segment plays as a celebration of not just what makes Cuba special, but what makes it normal. While political tensions with Cuba will take time to cool, a fact O'Brien himself admits in the clip, the more we as a country can step away of thinking of the island nation as a terrifying world of oppressive communism, the better American-Cuban relations will be for future generations.