Hillary Clinton Should Turn Over All Her Emails to the State Department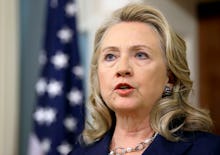 On Monday night, the New York Times reported that Hillary Clinton used a private email account to conduct both personal and official business during her tenure as secretary of state. Two days later, the Associated Press revealed that Clinton used a private email server to send and receive messages from her personal account.
The set-up gave Clinton "impressive control over limiting access to her message archives," according to the AP. At no point in Clinton's four years as secretary were her emails archived by the State Department. The net effect was that emails between Clinton and other individuals using private accounts, including at least one top aide who also registered a clintonemail.com address, were able to pass below the radar of investigators or journalists seeking records through Freedom of Information Act requests.
The State Department did not ask for Clinton's records until December, the Times reports — almost two years after she left her post. At that point, Clinton turned over the 55,000 pages of communications from her time as secretary that her staff deemed relevant. Neither Clinton nor her aides have said precisely how those emails were selected or what portion of her total communications they represent. We don't know what happened to the rest of her emails after that initial batch was delivered, and Clinton has expressed no desire to turn over the entirety of her correspondence, if it even exists. But she should.
Her response: Until Wednesday night, Clinton had remained silent. But at 11:35 p.m., with the questions surrounding her email use threatening to spin into a full-blown scandal, she sent this tweet. It is her first and only public comment on the matter:
For a message with only 130 characters, Clinton managed to pack in a remarkable load of hypocrisy and condescension. Because this is all we have from her personally at the moment, let's examine it line-by-line.
First: "I want the public to see my email."
Not quite. From the moment she decided to register a private email address and run it through a server registered to her family home in Chappaqua, New York, Clinton has done everything in her power to shield those communications from easy scrutiny. 
Next: "I asked State to release them."
Clinton says she requested the State Department make her messages public. This is a true statement delivered in service of a broader dishonesty. Clinton omits the simple but vitally important fact that the State Department does not have access to all the relevant email. Rather, they are in possession of a cherry-picked collection of 55,000 pages provided by Clinton's own staff when the State Department requested her records last year.
On Tuesday, a reporter at the daily press briefing bluntly asked State Department spokeswoman Marie Harf about potential omissions: "You wouldn't really have any way of knowing if she had provided everything, unless you're just taking her at her word for it, correct?" 
"I think 55,000 is a pretty big number," Harf replied, all but shrugging and throwing her hands up in surrender.
Fielding a similar inquiry on Wednesday, Harf said Clinton assured officials that "anything related to her work has been given to the State Department."
"But," she continued, "this is obviously a confirmation her staff has to make."
Finally: "They said they will review them for release as soon as possible."
Civilian State Department staffers, many of them employees from Clinton's time running the shop, will now be tasked with poring through those pre-screened documents. This is an onerous task in any environment, but the political storm created by Clinton's original decision will make an honest assessment near impossible.
How it ends: Not well. By Wednesday night, House Republicans investigating the deadly 2012 attack on the United States outpost in Benghazi, Libya, had issued a subpoena for all related email Clinton and her colleagues sent using personal accounts. 
The best Clinton can do now is turn over every email sent and received through the clintonemail.com server during her time as secretary of state. From there, the State Department should determine what is relevant and what is not. Republicans will likely respond by accusing her of withholding or deleting vital communications. Their skepticism will be well-founded; Clinton has made it impossible to prove she isn't hiding something. It takes something special to cast the GOP's Benghazi caucus as reasonable, but with her email shenanigans, Clinton has managed it.
Luckily for her electoral prospects, the 2016 Democratic field is historically barren. Without a serious challenger in sight, Clinton can count on the party to twist itself into a pretzel defending her actions. How voters reconcile those arguments with the facts of the story could go a long way in shaping a campaign narrative that is threatening to run away from Clinton before she's formally entered the race.